Debt
Manage and reduce existing debt, use good debt to your advantage, deal with collection agencies, and avoid unnecessary expenses.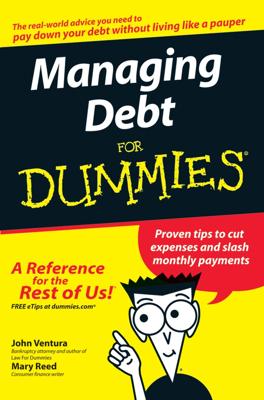 Debt
Managing Debt For Dummies
If you're trying to kick the "Buy Now/Pay Later" habit and get your spiraling debt under control, you need Managing Debt For Dummies now! This practical, commonsense guide provides straightforward strategies for coping with every kind of secured and unsecured debt, including, personal loans, car loans, mortgages, home equity loans, lines of credit, credit cards, finance company loans, and student loans. You'll find out how easy it is to: Distinguish between good and bad debt Go on a "debt diet" to get back into financial shape Start a filing system to track debt and protect life after debt Adopt a smart spending regimen Increase your income Consolidate your debt Decide which bills to pay when you can't pay them all Use credit cards responsibly You can still live well while slashing spending on groceries, clothing, and entertainment. Find out how in Managing Debt for Dummies.
Explore Book
Buy On Amazon