Coin Collecting
Become a savvy collector with these tips and strategies for hunting down rare and valuable coins.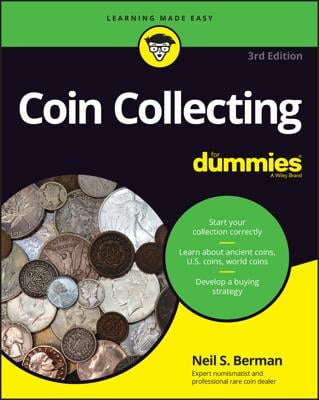 Coin Collecting
Coin Collecting For Dummies
Discover a new hobby—or refine your existing techniques—with this practical coin collecting handbook In Coin Collecting For Dummies, professional rare coin dealer Neil Berman delivers a hands-on and fun guide to the intriguing hobby of numismatics—also known as coin collection! You'll learn how to buy, sell, grade, value, handle, and store your coins, as well as how to decide what kind of coins you should collect and how to assemble or diversify your collection. In this book, you'll also find out how to: Evaluate coins based on their age, condition, rarity, and more Navigate and make use of auction houses that deal in the buying and selling of rare coins Make the most of your new hobby by learning where to find rare coins and how to complete your collections There's no one "right" way to collect coins. But Coin Collecting For Dummies will show you how to avoid the most common pitfalls and take advantage of some handy tips, tricks, and best practices that make collecting coins even more fun and exciting. Perfect for the novice collector, or seasoned veterans looking for the latest news in coin grading and history, this book is a must-read for anyone interested in the fascinating world of coin collection.
Explore Book
Buy On Amazon