Antiques & Collectibles Books
Discover the rare and the valuable with these insights on collecting coins, browsing antique stores, and more.
Antiques & Collectibles
Books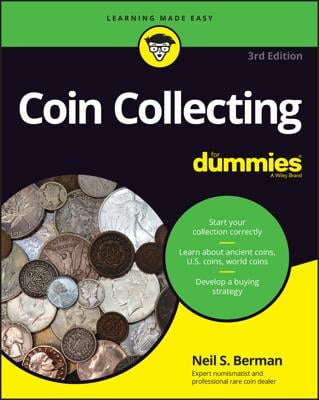 Coin Collecting
Coin Collecting For Dummies
Discover a new hobby—or refine your existing techniques—with this practical coin collecting handbook In Coin Collecting For Dummies, professional rare coin dealer Neil Berman delivers a hands-on and fun guide to the intriguing hobby of numismatics—also known as coin collection! You'll learn how to buy, sell, grade, value, handle, and store your coins, as well as how to decide what kind of coins you should collect and how to assemble or diversify your collection. In this book, you'll also find out how to: Evaluate coins based on their age, condition, rarity, and more Navigate and make use of auction houses that deal in the buying and selling of rare coins Make the most of your new hobby by learning where to find rare coins and how to complete your collections There's no one "right" way to collect coins. But Coin Collecting For Dummies will show you how to avoid the most common pitfalls and take advantage of some handy tips, tricks, and best practices that make collecting coins even more fun and exciting. Perfect for the novice collector, or seasoned veterans looking for the latest news in coin grading and history, this book is a must-read for anyone interested in the fascinating world of coin collection.
Explore Book
Buy On Amazon
Antiques & Collectibles
Antiquing For Dummies
"This is a fun and painless way to give yourself a firm grounding in the wide wonderful world of antiques and collectibles." Kyle Husfloen, Managing Editor, Antique Trader Weekly and Antique Trader's Antiques & Collectibles Price Guide Do you love to poke around estate sales and antique shops, but can't tell the difference between Queen Anne and Queen Victoria furniture? Do you dream of owning that old Oriental rug or Meissen figurine — but worry that the dealer might gouge you on the price? Do you own pieces you think might be valuable — but don't know where to go for a reliable appraisal? Relax. Antiquing For Dummies answers all your antiquing questions—and more. Whether you're a beginner or you've already gotten your feet wet, this fun, friendly guide will give you the savvy you need to cruise, schmooze, bargain for, and care for antiques with confidence. In no time you'll be able to: Tell the difference between real antiques and stuff that's just old Develop an antique hunt plan of attack Select antiques based on the 5 key points of the "RADAR Test" Discover hidden treasures at garages, estate sales, auctions, and shops Get the best deals when buying and selling antiques Decorate with antique glass and porcelain from around the world Clean and care for your precious finds Work an auction—real-time and online Writing with humor and common sense, Ron Zoglin and Deborah Shouse demystify the highfaluting terminology of the antique world. And step-by-step they walk you through all the antiquing essential, including: Different furniture styles and periods of furniture and how to distinguish them Dovetails, nails, and other construction elements that offer clues to a piece's age Where to go for the best antique bargains — includes tips on how to bid at auctions in person or online All about antique glass, ceramics and silver Integrating antiques into your life at home and at the office Antiquing For Dummies gets you up and running with what you need to know to find, research, and negotiate prices like a pro.
Explore Book
Buy On Amazon