Antiques & Collectibles Books
Discover the rare and the valuable with these insights on collecting coins, browsing antique stores, and more.
Antiques & Collectibles
Books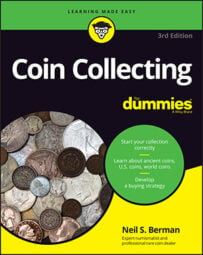 Coin Collecting
Coin Collecting For Dummies, 3rd Edition
Published 05-02-2022
This hands-on guide escorts you through the world's oldest hobby, helping you decide which types of coins you want to collect, showing you how to keep your collection in mint condition, and explaining how to buy and sell coins on the internet. This 3rd edition includes updated photos and a wealth of new information, such as more on coin grading and grading services, expanded coverage of the primary role auction houses play in coin collecting, and recently discovered rare coins.
Explore Book