What an eBay End-of-Auction E-mail Tells You
What an eBay End-of-Auction E-mail Tells You
eBay sends out an end-of-transaction e-mail to both the buyer and the seller. The e-mail is informative to the seller and a welcome e-mail for the buyer. It's brightly colored and joyful, probably designed to evoke some strong level of excitement in the buyer.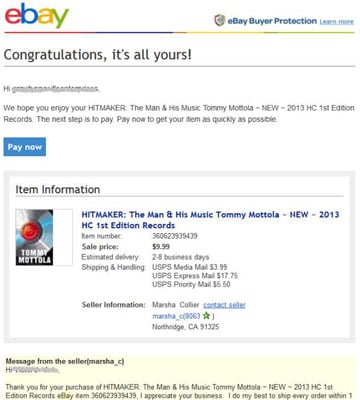 The e-mail to the buyer has a Pay Now button, but includes more concrete information about the transaction:
Item title and number.

The final bid or sale price.

Quantity (if the purchase was for more than one).

Seller and buyer's User ID.

A link for viewing the item. This link is good for up to 90 days. Note that this is the only place you get this link, and unless you subscribe to eBay's Selling Manager, you'd better keep hold of it. Sold items remain on your my eBay page for 60 days, but the items disappear from the eBay search engine within two weeks.

A link so that the buyer can contact the seller.

A buyer's link to complete checkout and pay.

If the seller has set up custom e-mails to go along with these notices, that message will appear at the bottom of the confirmation.
That's a lot of information, and the average user probably just glances over it and either deletes it (bad idea) or files it in a special folder in his or her e-mail program.
If you think eBay's notification is good enough, it's time to rethink your customer service policy. An e-mail to the buyer at this point is important. Customer contact is the key to a good transaction. If the buyer sprints directly to PayPal and sends you some money to pay for a purchase, a special e-mail from you would be nice. Thank the buyer for the payment and mention shipping details.