How to Set Up a New eBay Store
How to Set Up a New eBay Store
Setting up an eBay store is great for business, and the process is simple. Go to the eBay Stores hub from the Sell link on eBay's navigation bar. This takes you to the seller's hub of eBay Stores. If you click all the links you see here, you get the company line about how good an eBay Store can be for your business, which you already know, so skip the propaganda and get right down to business.
Opening a store is a commitment. It won't work for you unless you work for it. You have to have the merchandise to fill it and the discipline to continue listing store and auction items. Your store is a daily, monthly, and yearly obligation. You can close your store temporarily, but eBay will reserve your store name for only 30 days. After that, you have to come up with a new name (and your competition may have taken over your old store name, especially if it's famous). You have to be prepared for the times when you're sick or just don't feel like shipping, but orders are waiting to go out. You have to do the work anyway; it's all part of the commitment.
If you're serious and ready to move on, do the following: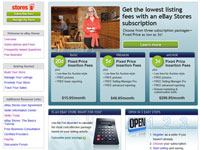 1

Click the Subscribe Now link in the upper-left corner of the page.

You're escorted to a page where you find a reminder that eBay Stores fall under the same User Agreement that you agreed to when you began selling on eBay.
2

Click the Continue button to access the Build Your Store pages.

The first thing you do is pick what you want your store to look like.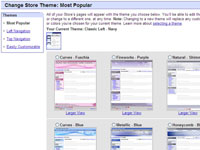 3

Choose a color theme and click Continue.

eBay provides some elegant color and graphics themes. You can change the color scheme or layout later, so until you have time to go hog wild and design a custom masterpiece, choose one of the 14 clearly organized layouts, either predesigned or with easily customizable themes.
4

Type your new store's name.

Your eBay Store's name can't exceed 35 characters. Before you type it, double-check that you aren't infringing on anyone's copyrights or trademarks. And remember: You also can't use any permutation of eBay trademarks in your store's name.
5

Type a short description of your store.

This description is hugely important. When people search eBay Stores and descriptions, the keyword information you put here is referenced. Also, if the store header contains your description (as in the Classic style themes), search engines such as Google and Yahoo! will look in this description for keywords to classify and list your store.
6

Select a graphic to jazz up the look of your store and click Continue.

Now you should have an idea of what your store will look like. You are about to open an eBay Store, complete with storefront (drum roll, please).
7

Sign up for the basic store ($15.95 a month) and click the Start My Subscription Now button.

Your store is now live on the Internet with nothing up for sale.
8

Click the supplied link to get in the trenches and customize your store further.

If you're wondering in which category your store will be listed on the eBay Stores home page, it's all up to you. eBay checks the items as you list them in the standard eBay category format. For example, if you have six books listed in the Books: Fiction and Nonfiction category and five items in the Cameras & Photo category, you'll be in the listings for both of those categories.