How to Respond to an eBay Buyer's Initial Inquiries
How to Respond to an eBay Buyer's Initial Inquiries
A relevant item description is the key to initial customer satisfaction on eBay. If you answer all possible questions within a well-written description, there will be less need for the customer to wonder about your item.
Why would you want to make your item description try to pre-answer initial inquiries from buyers? Here are a couple of reasons:
You may lose a sale if you don't. Other sellers may have the same item with a more complete description, and it's just as easy for customers to buy from a seller they know is selling just what they want.
Your Detailed Seller Ratings may be affected if the description is missing. eBay feels that most transactions need not include communication past the buyer reading your description. For that reason, your feedback will receive an automatic five-star rating if you satisfy these three criteria:
You specify one-day handling time and upload tracking information within one business day.
There are no buyer- or seller-initiated communications in eBay Messages.
There are no requests for contact information between you and the buyer.
This is not to say that cordial communication with a prospective buyer is undesirable. The opposite is true. If you do get an inquiry, be sure to answer as quickly as humanly possible, and give the customers all the information they need.
Use eBay's options to manage Questions & Answers for your buyers. This way, if your customers scroll to the bottom of your description and click Ask a Question, they're taken to your Auto Answers.
Follow these steps to set up your Auto Answers:
1

Go to your my eBay page.

You get there by clicking the link in the upper-right of most eBay pages.

2

Mouse over the Account tab, and click the Manage Communications with Buyers option.

You arrive at an area where you can customize your questions and e-mail messages.
3

Scroll down the page to the Manage questions and answers section and click Edit.

A page will open with editing options.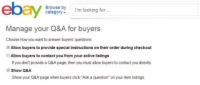 4

Select the check boxes to indicate which communications you want to provide for your buyers.

Your options are

Allow buyers to provide special instructions on their order during checkout. This option is most important because buyers may have special instructions for delivery or may just want to reach out and say Hi. (Both are part of making your customer happy.)

Allow buyers to contact you from your active listings. If you don't indicate (in the Show Q&A box shown here) that you want to have Auto Answers for your listing, you must select the check box here. It's highly recommended that you use eBay's Auto Answers system.

Show Q&A. When a buyer clicks Ask a Question, your Auto Answers will appear on the listing page.
5

Scroll down the page and click a topic shown to see what eBay supplies as an Auto Answer.

These Auto Answers are automatically generated from the details you input (or have on file with eBay) when you list your item.
6

(Optional) Create your own questions and answers if you have other specifications you want the customer to know about.

To do so, here's the drill:

From the list, select the topic to which your answer applies.

Click the Add a Question link.

In the Add Your Own Q&A dialog box that appears, type your question and answer.