How to Organize Your eBay Listings with Turbo Lister
How to Organize Your eBay Listings with Turbo Lister
After you've put together a few listings, your eBay Turbo Lister item Inventory will begin to fill up. Just click the link on the left to get to the Inventory tab, which shows your listing activity in the middle grid and your folder structure on the left. You can look at all your items, including those in folders, by clicking the Inventory link.
To see the contents of a particular folder, just click the folder name.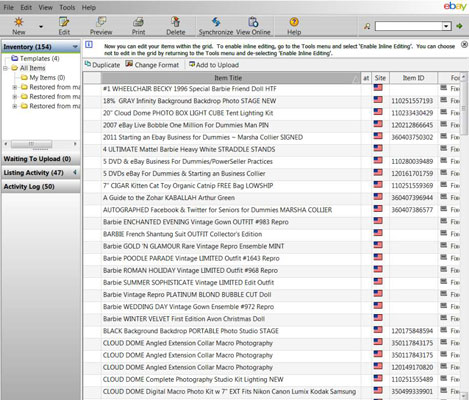 Note that you can add folders to the tab's folder list to hold inventories for different categories of items. To create a folder and move items into it, follow these steps:
Open the Turbo Lister program.

By default, you see your inventory view after the tip of the day.

Near the top of the screen, click the arrow just to the right of the New button and select the command to create a new folder.

Give your new folder a name, and then click OK.

The folder appears in the folder list on the left side of the screen.

To move a listing to a different folder, highlight the listing and drag it to the folder.

To move multiple listings at once, press the Control key or the Shift key and then click the listings.