How to Find Out an eBay Item's Bidding History
How to Find Out an eBay Item's Bidding History
You can access the bidding history of an item on eBay by clicking the Number of Bids link, which appears to the right of the current bid on the item page. The bidding history lists everyone who is bidding on the item.
You can see how often and at what time bids are placed, but you can't see the bidder's real eBay username because (to protect the innocent) eBay changes User IDs to a gibberish of asterisks and numbers. Each bidder is assigned a faux bidder ID in the history.
Pay attention to the times at which bidders are placing their bids; you may find that, like many eBay users, the people bidding in this auction seem to be creatures of habit — making their bids about once a day and at a particular time of day. They may be logging on before work, during lunch, or after work.
Whatever their schedules, you have great info at your disposal in the event that a bidding war breaks out: Just bid after your competition traditionally logs out, and you increase your odds of winning the auction.
You'll also notice when someone has placed a much higher proxy bid — as when a single bidder continually ups the bid and still doesn't have the highest, winning bid.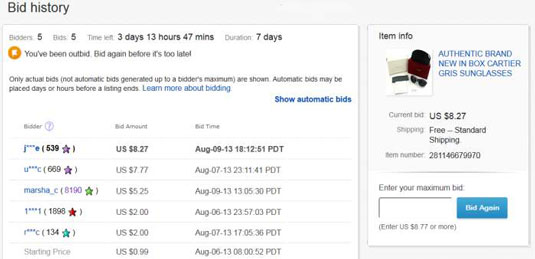 Early in an auction, there may not be much of a bidding history for an item, but that doesn't mean you can't still check out the dates and times a bidder places bids.
You can also tell that a bidder practices sniping if his or her bid zips in during the last few minutes (or even seconds!) of the auction. You may have a fight on your hands if the bidder does practice sniping.