How to Customize and Download PayPal Reports
How to Customize and Download PayPal Reports
The best defense against an audit is to have backup records. One excellent piece of data to have at your fingertips is your PayPal transaction history. Besides meeting tax-reporting requirements, keeping accurate records keeps you on top of your business dealings. PayPal helps you with this all-important recordkeeping by providing reports on your buying and selling activity with these features:
To get your reports from PayPal, follow these steps:
1

Go to Paypal and log in to your account with your e-mail address and password.

After you're logged in, the top of your page displays various tabs.
2

Click the my Account tab.

This will take you to a page that details your account.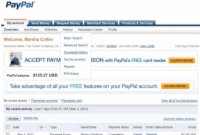 3

Mouse over the History item on the navigation bar and click Download History on the resulting drop-down menu.

You land on the Download History page. Before you start clicking anything, consider customizing your reports by choosing only the data you want from all the available data.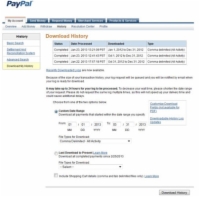 4

Scroll down the page to indicate your level of customization.

You can customize the fields you require in your download through the links at the right.
5

Click the Customize Download Fields link.

You're taken to a page where you can further refine the data you need.
6

Select the fields you want to include by putting a check mark in the box next to the desired data. Click Save.

You're returned to the Download History page. Your customization is saved for future report downloads.
7

Specify the dates that you want to span in the downloaded report.

You can do either of the following:

Click the Custom Date Range option and type dates in the From and To fields.

Click the Last Download to Present option.

If you're a seller in the U.K., your page will look slightly different from the one pictured here. Your dates will be in DD/MM/YY format.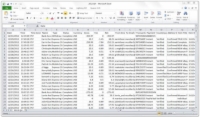 8

Select a format for your download from the File Types for Download drop-down list.

Your choices include

Comma-delimited file: This type of file downloads with the .csv extension. After you've downloaded a comma-delimited file, you can open it easily in Microsoft Excel by double-clicking.

Tab-delimited file: This file downloads with the .txt extension. It can be opened not only in a spreadsheet program but also as a text file in Windows Notepad or a word processing program such as Microsoft Word for Windows.

Quicken or QuickBooks file: These files download in the native format, ready to import into these Intuit bookkeeping programs. Just remember: After these files are imported, they're in there for good.

Saving these files for spreadsheet use does not limit you as to what version of which program will open what file in the future. The .txt and .csv files are universal files that can be opened on any PC with basic spreadsheet capabilities.

By opting for a spreadsheet file as your record of customers, you're not bogging down a bookkeeping program with hundreds and eventually thousands of records of one-time buyers. Even a robust program like QuickBooks will max out at around 14,000 customers!
9

Click the Download History button.

If you've asked for a long timeframe (such as a year), go make yourself a cup of joe. When you come back, your file will be ready to download.