Getting an eBay Buyer or Seller's Phone Number
Getting an eBay Buyer or Seller's Phone Number
If you don't hear from the buyer (or seller) of your eBay item after three business days and you've already tried sending an eBay message, you need to get more contact information. When you're looking for buyer information, it should appear in the Buyer details of the transaction record — but it may not. Remember back when you registered and eBay asked for a phone number? eBay keeps this information for times like this.
To get an eBay member's phone number, go to the Find Contact Information in the Advanced Search: Members: Find Contact Information link. Fill out the form by entering your transaction partner's user ID and the number of the item that you're inquiring about, and then click the Search button. If all the information is correct, you automatically see a request-confirmation page and eBay generates an e-mail message to both you and the other user.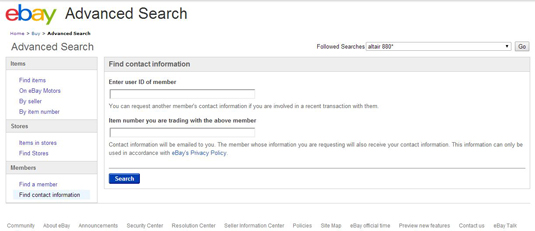 eBay's e-mail message includes the seller's user ID, name, company, city, state, and country of residence, as well as the seller's phone number. eBay sends this same information about you to the user you want to get in touch with. Most sellers jump to attention when they receive this e-mail from eBay and get the ball rolling to complete the transaction.