You can make the most of your work in QuickBooks Online (QBO) and QuickBooks Online Accountant (QBOA) using handy and time-savings shortcuts and tool buttons.

Using QBO keyboard shortcuts means you can seamlessly access various windows and pages without touching a mouse. The various icons at the top of the QBO page help you quickly search for items, create new items, or display transactions.
Keyboard shortcuts for QuickBooks Online and QuickBooks Online Accountant
Keyboard shortcuts can help you save time. By using keyboard shortcuts, you can keep your hands on the keyboard when you enter information in QuickBooks Online or QuickBooks Online Accountant.
If you are a Mac user, substitute Option for Alt in the following tables. These shortcuts are specific to QuickBooks; your web browser will offer additional keyboard shortcuts as well.
| | |
| --- | --- |
| To | Press |
| Open the Check window | Ctrl+Alt+W |
| Open the Expense window | Ctrl+Alt+X |
| Open the Estimate window | Ctrl+Alt+E |
| Open the Invoice Transaction window | Ctrl+Alt+I |
| Open the Receive Payment window | Ctrl+Alt+R |
| Display Help | Ctrl+Alt+H |
| Display the Lists page | Ctrl+Alt+L |
| Display the Customers page | Ctrl+Alt+C |
| Display the Vendors page | Ctrl+Alt+V |
| Display the Chart of Accounts page | Ctrl+Alt+A |
| Display the Search Transactions page | Ctrl+Alt+F |
| Display keyboard shortcuts | Ctrl+Alt+/ |
Use these keyboard shortcuts while working in a transaction window:
| | |
| --- | --- |
| To | Press |
| Save the transaction and start a new one | Ctrl+Alt+S |
| Save the transaction and close the transaction window | Ctrl+Alt+D |
| Save and send the transaction | Ctrl+Alt+M |
| Print the transaction | Ctrl+Alt+P |
| Close the transaction window. (If you've made changes, a message asks you to confirm that you want to close the window without saving your changes.) | Ctrl+Alt+X or Ctrl+Alt+C or Esc |
Entering transactions directly into registers
In addition, you may be entering transactions directly into your registers because the traditional transaction screens feel cumbersome. You can speed the data-entry process in a couple of ways when you're entering transactions into a register:
Press Ctrl+Alt+N to create a transaction based on the type shown in the Add drop-down menu. You still need to click the Add button to change transaction types, but pressing Ctrl+Alt+N gets you right into entering a transaction. If you forget the keystrokes, click on the Add button to see the shortcut appear to the right of the drop-down list.
Press the Tab key to move between transaction fields. If you keep pressing Tab, you can get to the Cancel button and press Enter to discard the transaction, or tab all the way to the Save button and press Enter to save your work. Alternatively, pressing Ctrl+Alt+S allows you to save your work without navigating to the Save button.
Press Alt+Down arrow to display a drop-down list, such as in the Payee, Class, or Location fields.
Three handy tool buttons in QuickBooks Online
In QuickBooks Online, at the top of the window, tools are available to help you find your way. You can view recent transactions or search for transactions, create transactions, or perform other actions not related to transactions.
Be aware that if you're working in QuickBooks Online Accountant and you open a QBO company, the tools vary somewhat. The tools on this cheat sheet are for a client working in a QBO company.
Click the + New button (shown toward the top-left of the window below) to open the Create menu and select a transaction to create.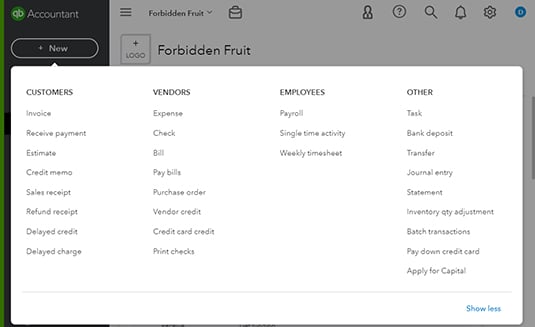 Click the magnifying glass (in the top-left of the window below) to view a list of recent transactions and to search for transactions. To open a recent transaction, click it to open it in its transaction window. Type any identifying information or click Advanced Search to specify more detailed search criteria.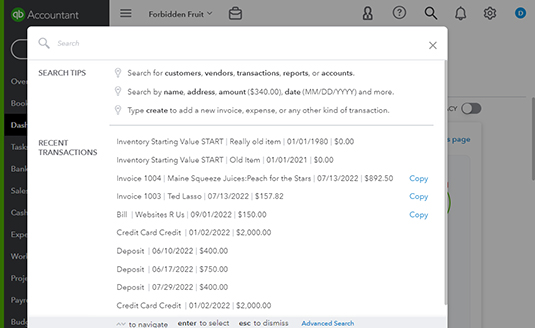 Click the Gear button (in the top-right of the window below) to display the Gear menu, which helps you perform a variety of tasks in QBO other than entering transactions.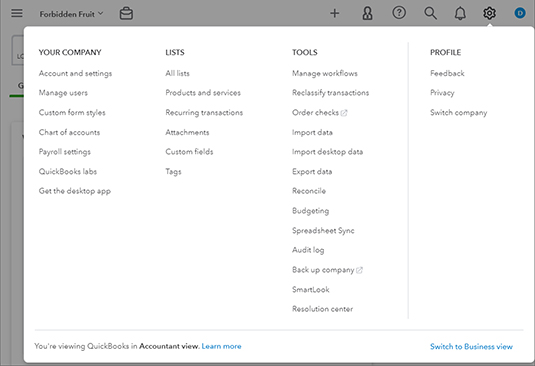 QuickBooks Desktop conversion considerations
You can import almost all data in a QuickBooks Desktop company into QuickBooks Online. There is mostly a one-to-one relationship between Desktop and Online, but there are features in both Desktop and Online that don't exist in the other platform.
The following gives you a sense of what to expect if you migrate a QuickBooks Desktop company to QuickBooks Online. You can also take advantage of a free Data Conversion guide created by Daniel Delong, the Technical Editor of QuickBooks Online For Dummies.
What doesn't import
Most of your information from QuickBooks Desktop will migrate into QuickBooks Online. The following table lists what won't import.
| | |
| --- | --- |
| What Doesn't Import | Recommendation |
| QuickBooks Desktop usernames and passwords | You need to invite every QuickBooks Desktop user individually to use the QuickBooks Online company. You can limit access to certain areas of QuickBooks Online, but you don't have the transaction-level control you have in QuickBooks Desktop. If you have an Advanced subscription, QuickBooks migrates the users' rights as closely as possible; otherwise, you need to establish the users' rights manually. |
| Price levels | QuickBooks Online doesn't offer price levels. |
| Reminders | QuickBooks Online doesn't offer a tickler feature, but QB Accountant allows you to create reminders by establishing projects and tasks. You can also create tasks if you have an Advanced subscription. |
| Vehicle list | You can add vehicles manually to the fixed assets in QuickBooks Online. |
| Reconciliation reports | All reconciled items transfer to QuickBooks Online, but you have to go back to QuickBooks Desktop if you want to review any old reconciliation reports. |
| Subtotal items | Subtotals can be added to future transaction documents. |
| Recurring credit card charges | You must first cancel any Automatic Credit Card recurring charges from your Merchant Center and then re-create them as recurring sales receipts. All other recurring transactions import. |
| Memorized reports | Memorized reports in QuickBooks Desktop are referred to as Customized Reports in QuickBooks Online. You need to re-create all your QuickBooks Desktop reports manually. Note that QuickBooks Advanced offers a custom report writer that isn't offered in the Simple Start, Essentials or Plus versions of QuickBooks. |
| Audit trail | You need to refer to QuickBooks Desktop for your previous audit trail, but a new audit trail is logged in QuickBooks Online. |
Accounting software conversions always entail some amount of manual effort. There's also a learning curve during which you acclimate to the new software. Plan to give yourself three months for things to smooth out.
A best practice is to run both the old software and new software concurrently for a period of time, a process referred to as running the programs in parallel. This ensures that you can easily continue on with the old software if you discover an unexpected dealbreaker in the new program you're trying out.
Features not fully available in QuickBooks Online
QuickBooks Desktop users who need the following features should think twice before moving to QuickBooks Online:
To Do notes
Complete Job Costing
Sales Orders
Fixed Asset Tracking
Estimate to Actual Reporting
None of these features is directly supported in QuickBooks Online. For instance, QuickBooks Online offers a fixed asset, but it's simply a list of and doesn't offer any sort of tracking. You may be able to locate add-ons to QuickBooks Online that provide the functionality you need at the QuickBooks Apps Store.
Mileage tracking is available in QuickBooks Online both via the mobile app and in your browser, but only for admin users. If you want to allow your employees to track miles without giving them administrative rights to your books, check the QuickBooks App Store for available add-ins.
About This Article
This article is from the book:
This article can be found in the category: