To ingratiate itself with you retailers, QuickBooks 2017 includes a special dialog box for paying sales tax. To use this dialog box, you must have sales tax items or a sales tax group already set up.

To see how much sales tax you owe and to write checks to government agencies in one fell swoop, choose Vendors → Sales Tax → Pay Sales Tax to access the Pay Sales Tax dialog box. Alternatively, click the Pay Sales Tax icon on the home page in the Vendors area.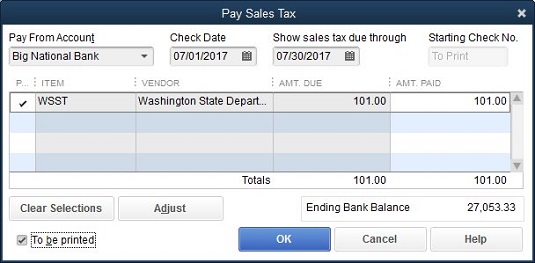 The Pay Sales Tax dialog box.

This dialog box is similar to the Pay Bills window. The buttons basically work the same way.

Click in the Pay column to add check marks next to all the items that you want to pay. QuickBooks automatically writes checks in the register. Your payments are likewise recorded in the Sales Tax Payable register.

Are you an online retailer or a bricks-and-mortar retailer who does a healthy website business? If so, you probably want to get more disciplined about the way you handle your sales-tax accounting. Here's why. Although the United States Congress has cooled to the idea of changing the federal laws that prevent other states from making you collect and remit sales taxes, state revenue agencies are getting more and more aggressive about asserting that online retailers have liability for sales taxes on sales to customers within their borders if the retailer has any connection to the state.

Accordingly, even fairly modest retail operations might in the future find themselves preparing three or four dozen sales-tax returns each month to report online sales made to customers outside a home state. If this occurs in your business, you'll definitely want to be using QuickBooks to automate and ease the work of sales-tax accounting.
About This Article
This article is from the book:
This article can be found in the category: