Adding a header or footer to a document brings a smidgen of professionalism to your Word 2013 written creations and helps keep things organized. There's a difference between a header and a heading, and between a footer and a footnote. Knowing that difference greatly helps you understand the whole header-footer concept.
A header is text that appears at the top of every page in a document.
A footer is text that appears at the bottom of every page in a document.
Both headers and footers exist as special, exclusive areas. Their content appears at the top and bottom of every page, respectively. Typical headers and footers contain page numbers, your name, the document name, the date, and other information that's handy to have on every page.
A heading is a text style used to break up a long document, to introduce new concepts and help organize the text.

A footnote is a tiny bit of text that appears at the bottom of a page, usually a reference for some bit of text on that page.

Word documents always have headers and footers, it's just that they're empty unless you put something there.

Headers can also be called eyebrows. Weird, huh?
How to use a preset header or footer
Word comes with a slate of uninspiring headers and footers. The good news is that they're easy to add to a document. Heed these steps:
Click the Insert tab.

From the Header & Footer group, choose the Header button.

A list of preformatted headers is displayed.

Choose the format you want from the list.

The header is added to your document, saved as part of the page format.

Change any [Type here] text in the header.

Click the bracketed text to personalize your header. You can also add items to the header from the Header & Footer Tools Design tab that suddenly appears.

When you're done working on the header, click the Close Header and Footer button.

The button is found on the far-right end of the Header & Footer Tools Design tab.
To add a footer, repeat these steps, but choose the Footer button in Step 2 and think of the word footer whenever you see the word header in the preceding steps.
You can also exit from editing a header or footer by double-clicking the mouse in the main part of your document.

After you exit from the header or footer, you can see its text at the top and bottom of your document. To edit the header or footer, double-click that ghostly text.
How to edit a Word 2013 header or footer
Face it: Word's preset designs for the header are dull. Splashy, but dull. And chances are good that they don't contain all the information you want or need. That's no problem. You can edit the header by using what Word created as a starting point, or you can quickly whip up your own header.
Here's the secret to creating a new header or footer, or to editing an existing header or footer: Double-click in the space at the top or bottom of the page.
Here's a tip to make your creating-and-editing experience more enjoyable: Summon the ruler. Click the View tab, and ensure that a check mark appears by the Ruler item in the Show group.
After you're in header or footer editing mode, the Header & Footer Tools Design tab appears. On that tab, you find gathered a hoard of commands for working with headers. And footers, too.
Type text into a Word header or footer
Any text you type in a header becomes part of the header. It doesn't have to be fancy text — just informative.
Word helps by giving you a center tab stop and a right tab stop in the header. For example, you can type your name, press the Tab key twice, and then type a document title. Or type your name, the document title, and then the date.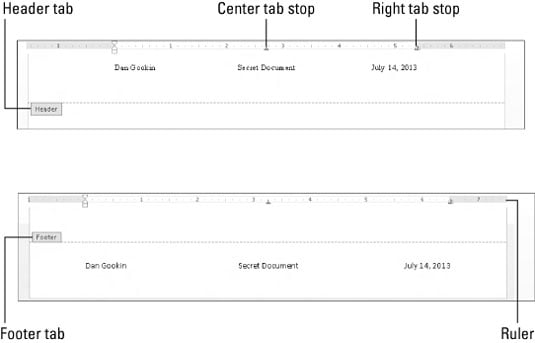 Add a page number to a header or footer
Page numbers are added by inserting a field into the header or footer. Yeah, this trick could be easier, but that's how Word does things.
You don't have to go to page 1 to insert a page number in a header. Word is smart enough to place the proper number on the proper page, no matter where you're editing the header in your document.
Add the date and time to a header or footer in Word 2013
Unlike adding a page number, inserting a date or time field in the header is accomplished by using a command button found on the Header & Footer Tools Design tab: Click the Date & Time button found in the Insert group. The Date and Time dialog box appears. Choose a sample date or time format from the Date and Time dialog box, and then click the OK button.
Add graphics to the header or footer of a Word document
The Insert area in the Header & Footer Tools Design tab sports a Picture button, which you can use to browse for graphical images that you can insert into the header. Of course, you can insert any graphical image by using Word's various graphics and drawing commands.
Did this glimpse into Word 2013's headers and footers leave you longing for more information and insight about Office 2013 applications? You're free to test drive any of the For Dummies eLearning courses. Pick your course (you may be interested in more from Office 2013), fill out a quick registration, and then give eLearning a spin with the Try It! button. You'll be right on course for more trusted know how: The full version's also available at Office 2013.
About This Article
This article is from the book:
This article can be found in the category: