When you choose the Add to Dictionary command in Word 2013, the given word is placed into the custom dictionary. Recognizing that people may change their minds, Word allows you to edit its custom dictionary, to remove words you may have added accidentally.
To remove unwanted words from the custom dictionary, follow these steps:
Click the Word Options button on the File tab's menu.
The Word Options window shows up.
Choose Proofing.
This will appear on the left side of the window.
Click the button labeled Custom Dictionaries.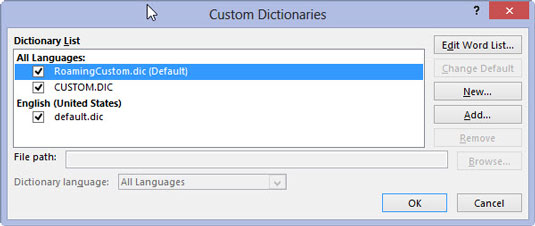 The Custom Dictionaries dialog box appears.
Select the item RoamingCustom.dic (Default).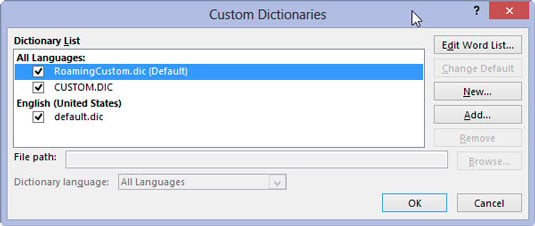 It's probably the only item in the list.
Click the button labeled Edit Word List.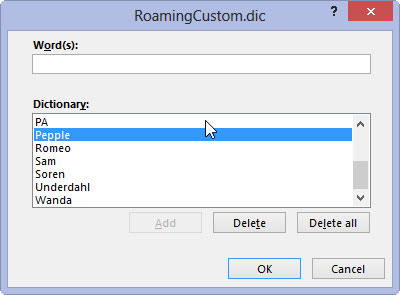 You see a scrolling list of words you've added to the custom dictionary.
Find and select the word you want to remove from the dictionary.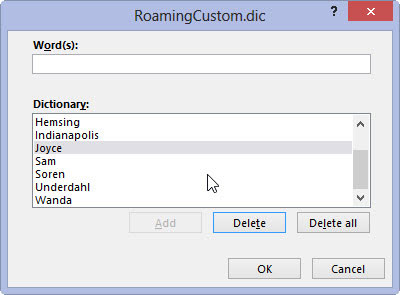 The word is selected by clicking it once.
Click the Delete button.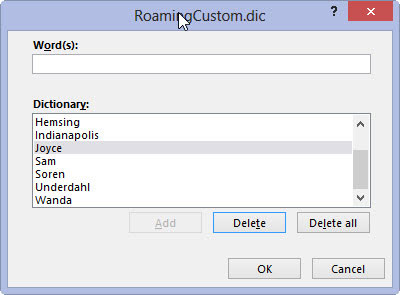 This will remove the word.
Repeat Steps above if you want to remove more words.
This is an optional step.
Click the OK button when you're done editing the dictionary.
Close any other open windows.
About This Article
This article is from the book:
This article can be found in the category: