Word 2008 for Mac lets you use almost any type of images (pictures) as elements in your documents and then resize those images. You can use clip art from the Office Clip Gallery or image files from your hard disk, or you can drag a photograph from iPhoto into your Word document. To add a logo to your document:
Locate the image file you want to use on your hard disk and drag it onto the Word document.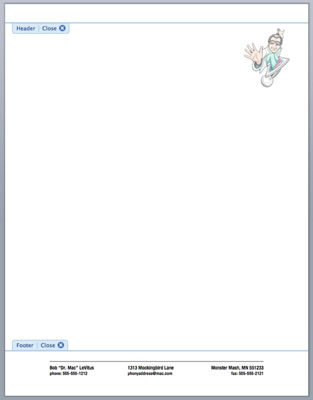 In the figure, the file Bob's Logo Image is being dragged from a folder on the hard disk to the upper-right corner of the Word document.
Click in the middle of the image to select it; then drag it to the precise location you want it to appear in the document.
If the image is too large or too small, you can resize it by clicking and dragging its handles until it's the size you want it. If you drag one of the corner handles, the image resizes proportionally. If you grab a handle in the middle of any side, the image resizes in only one direction — horizontally if you grab a side handle or vertically if you grab the top or bottom handle.
About This Article
This article can be found in the category: