For some who have used different versions of SharePoint over the years, it may be familiarity that keeps you using a Web Part page. Converting previous sites to the new version may be a factor as well. However, the need for creating rich content pages in a collaboration site is now better served by the Wiki Content page.
The following list helps you decide which type of page to create, based on your needs:
Web Part page: Use when you need mostly Web Parts with little text content. Examples include pages with multiple List View Web Parts, Office application Web Parts, custom search and site directories, and pages that use connected Web Parts.

Web Part pages are simple to create without the editor needing skills in rich content editing. Although versioning may be turned on in the library you store your Web Part pages in, the Web Parts themselves don't retain history.

Wiki Content page: Use when you have mostly a need for rich text content; for example, text, tables, links, and images. You can still insert Web Parts or use no Web Parts at all. The HTML content in wiki pages is also subject to versioning if versioning is turned on in the library.
There is also a special type of site called a Publishing site. Publishing sites contain a special type of page called a publishing page. You can lock down a publishing page and allow people to enter or edit content but not change the look and feel or the location of the content.
This is important for broadly consumed websites in order to maintain a consistent look and feel of content throughout the site. Publishing sites are a very advanced topic and require significant resources to implement and manage. However, if you are a large organization and want to control at a very granular level how content is published to your SharePoint website pages, then dig further with Publishing sites.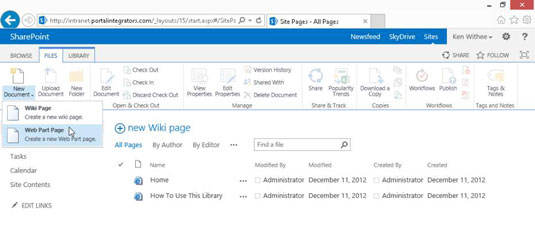 About This Article
This article is from the book:
This article can be found in the category: