SharePoint 2016 team sites contain a site icon in the upper-left corner. The default image in a team site is a blue rectangle with the SharePoint 2016 logo. SharePoint has a setting that allows you to change this image.

In the past, you had to worry about the exact size of your logo. SharePoint 2016 dramatically simplifies the process by letting you choose a logo image from your computer or from a Library app somewhere on your SharePoint site. SharePoint then automatically resizes the image to the optimal size for the logo.

To change the site icon:
Navigate to the Site Settings page by clicking the Settings gear icon and choosing Site Settings. The Site Settings page appears. You see all the options available in the Look and Feel section.
Click the Title, Description, and Logo link in the Look and Feel section. The Title, Description, and Logo page appears.

The Title, Description, and Logo page. Note the website Address field is only available in SharePoint Online.

Click the From Computer link and browse your computer for the image you want to use as a logo. When you browse and select an image, SharePoint automatically uploads it to your SharePoint site for you. After the image is uploaded, you see the URL for the image and also a preview of the image.
Type a short description of the image in the Enter a Description (Used as Alternative Text for the Picture) text box. Alternative text is important for accessibility software such as screen readers.
Click OK to commit your changes. You see your new logo in the header area.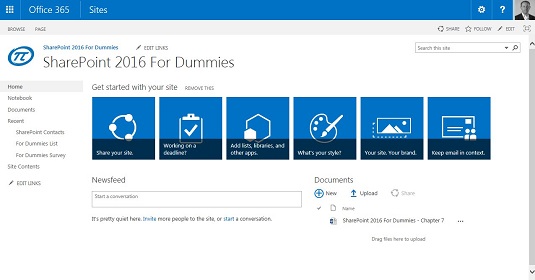 A team site with the site logo changed.
If you want to return to the default SharePoint logo, you can simply clear the logo URL and click OK. SharePoint automatically updates the site with the default SharePoint logo.
About This Article
This article is from the book:
This article can be found in the category: