Many people use Outlook 2019 for the mail feature. After you configure Outlook for email, take a quick look around the Outlook interface as it pertains to email. Check out the following features: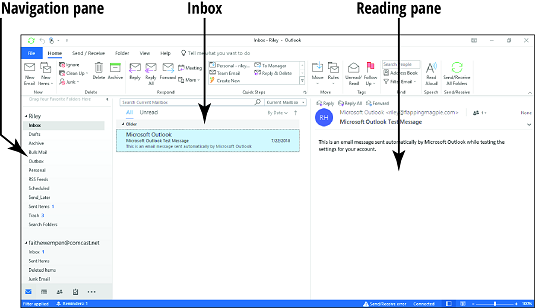 Navigation pane: This pane shows different things, depending on the part of Outlook you're working with. When working with mail, it shows the Mail Folders list. You can move to a different folder by clicking its name here.
Inbox: Whatever folder is selected on the Mail Folders list appears here. In the image above, that's the Inbox. New mail arrives in the Inbox, so it's the folder you work with most of the time.
Reading pane: Whatever email message is selected in the Inbox appears here in preview. That way, you don't have to open each message (by double-clicking it) to see what it contains.

By default, the Reading pane appears to the right of the Inbox. You can have it appear below the Inbox window, though; choose View → Reading Pane → Bottom.

The Navigation pane and Reading pane can be turned on or off from the View tab. Also on the View tab you can turn the To-Do bar or the People pane on and off. (Neither of these are on by default.)

Navigation buttons: At the bottom of the Navigation pane are a series of buttons for moving to different parts of the Outlook program. The leftmost one (the envelope) represents Mail, in which you are now working. The others shown above, from left to right, are Calendar, People, and To-Do List. To access additional icons, click the ellipsis (…) for a pop-up menu of the other areas: Notes, Folders, and Shortcuts.
Check out these Outlook 2019 keyboard shortcuts to speed things up.
About This Article
This article is from the book:
This article can be found in the category: