Excel 2013 contains a number filter option called Top 10. You can use this option on a number field to show only a certain number of records (like the ones with the ten highest or lowest values in that field or those in the ten highest or lowest percent in that field). To use the Top 10 option to filter a database, follow these steps:
Click the Sort & Filter button in the Editing group of the Home tab and then select Filter from the drop-down menu.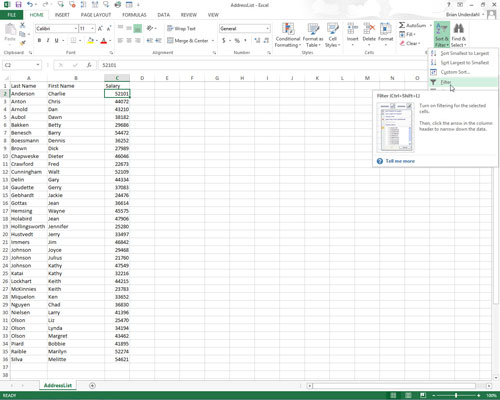 Excel adds the AutoFilter button to the data columns.
Click the AutoFilter button on the numeric field you want to filter with the Top 10 option. Then highlight Number Filters in the drop-down list and click Top 10 on its submenu.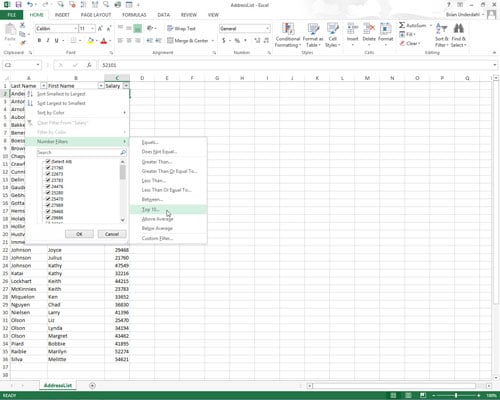 Excel opens the Top 10 AutoFilter dialog box. By default, the Top 10 AutoFilter chooses to show the top ten items in the selected field. However, you can change these default settings before filtering the database.
To show only the bottom ten records, change Top to Bottom in the left-most drop-down list box.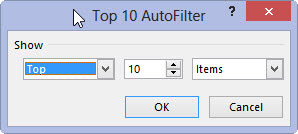 This option allows you to customize to see the information you need.
To show more or fewer than the top or bottom ten records, enter the new value in the middle text box or select a new value by using the spinner buttons.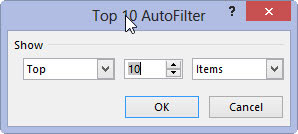 This middle text box holds 10 records.
To show those records that fall into the Top 10 or Bottom 10 percent, change Items to Percent in the right-most drop-down list box.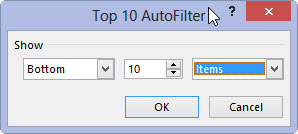 You can choose any percentage that best fits your needs in this drop-down box.
Click OK or press Enter to filter the database by using your Top 10 settings.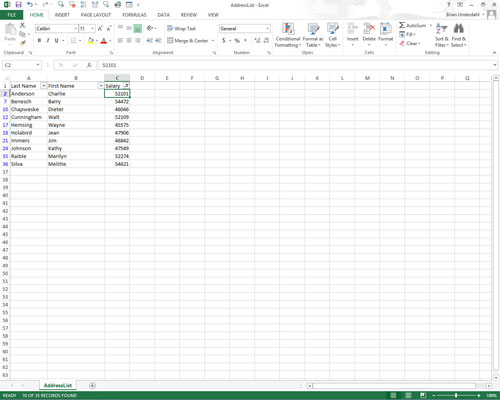 You can see the Employee Data List after using the Top 10 option (with all its default settings) to show only those records with salaries that are in the top ten. David Letterman would be proud!
About This Article
This article is from the book:
This article can be found in the category: