Excel 2013 makes it easy to apply common formatting changes to a cell selection right within the Worksheet area thanks to its mini-toolbar feature — nicknamed the mini-bar.
To display the mini-toolbar, select the cells that need formatting and then right-click somewhere in the cell selection. The mini-toolbar then appears immediately below or above the cell selection's shortcut menu.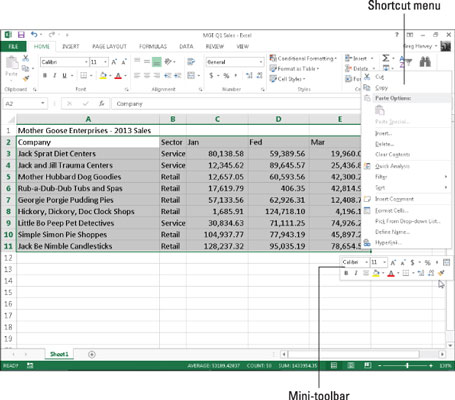 The mini-toolbar contains most of the buttons from the Font group of the Home tab (with the exception of the Underline button). It also contains the Center & Merge and Center buttons from the Alignment group and the Accounting Number Format, Percent Style, Comma Style, Increase Decimal, and Decrease Decimal buttons from the Number group. Simply click these buttons to apply their formatting to the current cell selection.
In addition, the mini-toolbar contains the Format Painter button from the Clipboard group of the Home tab, which you can use to copy the formatting in the active cell to a cell selection you make.
To display the mini-toolbar on a touchscreen device, tap and hold any cell in the selected range. Note that the mini-toolbar that appears is a little different from the one you see when you right-click a cell selection with a physical mouse.
This one contains a single row of command buttons that combine editing and formatting functions — Paste, Cut, Copy, Clear, Fill Color, Font Color, and AutoFill followed by a Show Context Menu button (with a black triangle pointing downward).
Tap the Show Context Menu button to display a pop-up menu of other editing and formatting options. Tap the Format Cells button on this menu to get access to all sorts of formatting options (see section that follows for details).
About This Article
This article is from the book:
This article can be found in the category: