Companies and organizations are always interested in business intelligence — raw data that can be turned into actionable knowledge. This need for business intelligence manifests itself in many forms.

Dashboards are reporting mechanisms that deliver business intelligence in a graphical form. Most data analysis benefits from a spreadsheet, so Excel is inherently part of any business-intelligence tool portfolio.

This Cheat Sheet provides some useful information and tips for working with Excel dashboards and reports.
Adding symbol fonts to your Excel dashboards and reports
A creative alternative to using the icon sets offered with conditional formatting is to use the various symbol fonts that come with Microsoft Office. These fonts — Wingdings, Wingdings2, Wingdings3, and Webdings — display symbols for each character instead of the standard numbers and letters.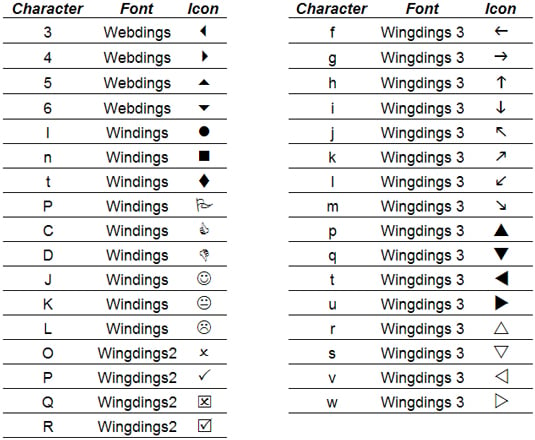 The idea here is simple: Make a formula that returns a character, and then change the font so that the symbol for that character is shown based on the font you select.
For example, imagine you want to test whether values in column A are greater than 50. You can enter the formula =IF(A1>50,"P","O"), as shown in the figure below. In a standard font like Arial, this formula would return either a P or an O. However, if you change the font to Wingdings2, you see a check mark or an X.

Great online resources for Excel dashboards and reports
It's always nice to see the approach others have taken to design their reporting mechanisms. Below, is a list of sites (in no particular order) dedicated to business intelligence and the presentation of data through dashboards. I often visit these sites to get ideas and fresh new perspectives on dashboards and reports.
About This Article
This article is from the book:
This article can be found in the category: