Google's G Suite is a set of applications that work together; G Suite apps are designed to tear down silos. In the world of business jargon, a silo is a person or department that can't or won't share information with other people or departments in the company.

Not all that long ago, all employees were silos in a way. Why? Because they beavered away at their computers using installed software such as Microsoft Word and Microsoft Excel, with all of their documents stored safely on their hard drives. Sure, every now and then they shared a document on the network or via email, but for the most part they worked in not-so-splendid isolation from their peers.

But as management gurus and overpaid consultants have been telling anyone who'll listen for at least a couple of decades now, silos are bad. On an individual level, silos make everyone less efficient and less productive; on a departmental level, silos create duplication of effort and endless turf wars; on a company level, silos inhibit growth and innovation.

Yes, silos are nasty things, but how do you get rid of them? An alarmingly large number of management reports and business books have been written to answer that question. It's a complex and difficult topic, but here are three solutions that are almost certainly common to all those reports and books:
Make it easy for individuals to access their software and documents no matter where they are or what type of device they're using.
Make it easy for people on the same team or in the same department to collaborate with each other.
Make it easy for people on different teams or in different departments to share information with each other.
How can G Suite apps tear down silos? By implementing the preceding list of solutions in the following ways:
G Suite apps aren't installed on your computer. Instead, they live online (in the cloud, to use the vernacular), so you can access them from any location that has Internet access, using any type of device — desktop PC, laptop, Touch PC, tablet, smartphone, you name it — that you have handy.
G Suite apps are built with collaboration in mind. For example, two or more people can work on the same document at the same time. No, I'm not just making that up — it's a real feature. G Suite also enables you to easily email, meet, and chat with members of your team or department, so everyone stays in the loop.
G Suite documents aren't stored on your computer. Instead, all G Suite data and documents reside in the cloud, so it's a snap to share them with anyone in your company.
Silos, schmi-los!
What You Get with G Suite
My dictionary defines a suite as "a connected series of rooms to be used together." You're probably thinking hotel suite, but that definition is actually a succinct and useful definition of the Suite part of the G Suite name. You can, in fact, define G Suite as "a connected series of Google apps to be used together." That is, the G Suite apps are all awesome when used by themselves, but they're designed in a way that connects them together to make your work life easier, more efficient, and more productive.

Okay, so what are these apps that I've been going on and on about?
The G Suite Apps

| | |
| --- | --- |
| App | What You Can Do with It |
| Gmail | Send and receive email messages. You can also share files as attachments, organize messages, control email conversations, and more. |
| Calendar | Maintain an online schedule of appointments and other events. You can also see reminders of upcoming events, schedule repeating events, share calendars, and more. |
| Contacts | Create and maintain an online address book. For each contact, you can store info such as the person's name, email address, and phone number. You can also import contacts, group related contacts, and more. |
| Docs | Create, edit, and collaborate on word processing documents. You can change the layout, add bulleted and numbered lists, work with headers and footers, format text, paragraphs, and pages, and more. |
| Sheets | Create, edit, and collaborate on spreadsheets. You can build formulas, sort and filter data, analyze data, and more. |
| Slides | Create, edit, and collaborate on presentations. You can change the theme, show your presentation, create slides that include text, images, and shapes, and more. |
| Meet | Set up and join online meetings. You can invite people to a meeting, share resources, record and live-stream a meeting, and more. |
| Chat | Exchange real-time messages with members of your team, department, or organization. |
| Groups | Join and create groups for posting messages, sharing files, and more. |
| Forms | Create forms, quizzes, and surveys to gather information and opinions from members of your team, department, or organization. |
| Keep | Create, edit, and share notes. |
| Drive | Store, manage, and share files online. |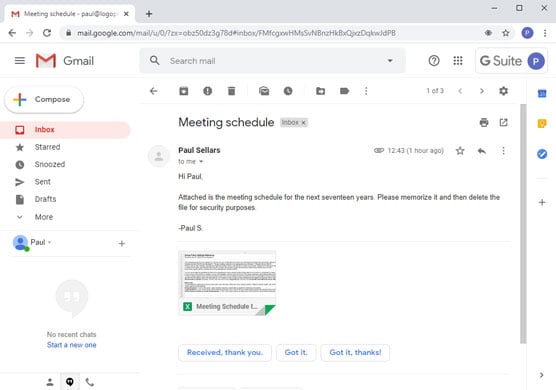 Gmail: G Suite's email app.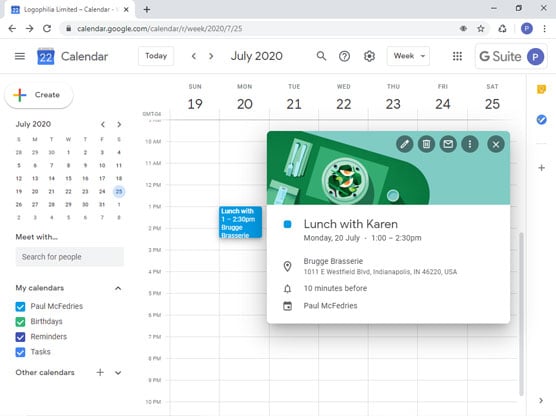 Calendar: G Suite's scheduling app.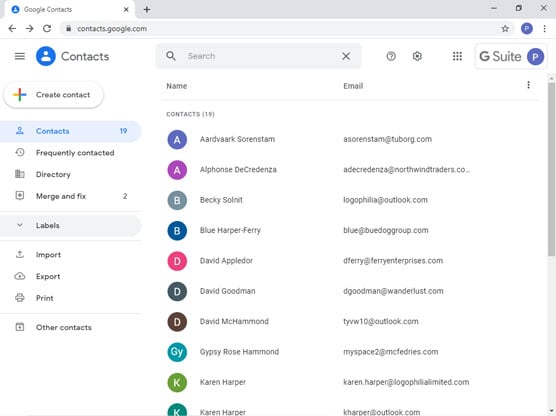 Contacts: G Suite's contact management app.
About This Article
This article is from the book:
This article can be found in the category: