One of the main benefits of Google Drive is the ability to share files with others. When you share a document with others, you allow them to have access to the file that resides on your Google Drive; you're not sending them a copy of it. Any changes they make to the document will be saved in the document on your Google Drive, unless they choose to download a copy of the file for themselves.
As with anything you share on the Internet, make sure the people you share your documents with are trustworthy. Once you give others permission to edit your documents, they can make any changes they want — even if you don't want them to.
Share a document from Google Drive
To share a file directly from your Google Drive or from within a Google app (such as Google Docs), follow these steps:
Navigate to the document you wish to share.

Right-click and choose Share… If you're within a Google app, click File, and then Share…

You see the Share with Others dialogue box. If you want to send just a link to the document in a separate e-mail, then click Get Shareable Link to copy and paste the URL into an e-mail message.

Type in the e-mail address of the person you want to have access to the document.

It doesn't have to be a Google e-mail address. You can send it to anyone.

Type in a note to the person, if you want.

5. Choose the type of access you want to give from the drop-down menu (see Figure 1).

You can choose Can Edit, Can Comment, or Can View. Can Edit gives the person permission to alter the document. Can Comment allows the person to only view the document, but they can annotate it with comments. Can View allows the person to only view the document, without editing or commenting.

Click Done. Google Drive sends an e-mail to the person you specified with a link that allows that person to view the file.

Figure 1: Choose the level of permissions to give.
Share files with social media
If you want to share the document with a wider audience, you can share the document via your social media account. In the Share with Others dialogue box, click Advanced at the bottom of the box. You see additional options for sharing with Google+, Facebook, and Twitter (see Figure 2).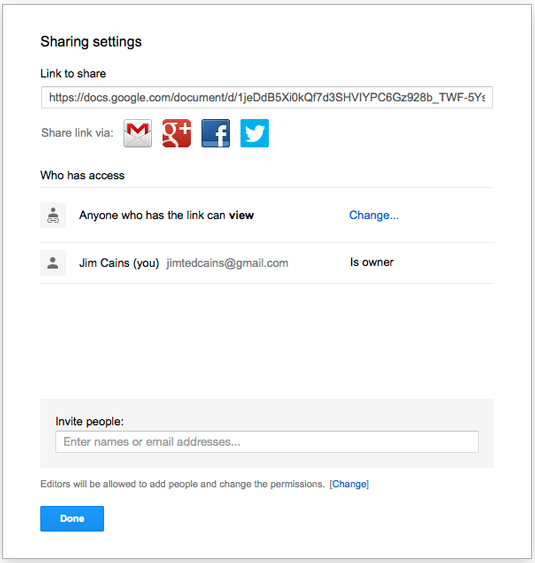 Figure 2: Share your file via social media.
Choose the option you want and log in to that account. Each option works the same way: A link to the document is posted to your Google+ wall, your Facebook wall, or your Twitter feed. You can add an explanatory comment to the post as well.
Thankfully, when you share a document with social media, permissions are restricted to view only. After all, you don't want your 5,000 followers editing your document!
About This Article
This article can be found in the category: