If you've ever used a spreadsheet program, you know that columns and rows don't always fit the data within them. In Numbers for iPad, you can select the columns or rows that you want to work on and then rearrange or resize them.
Selecting a row or column
Tap in the row frame to select the corresponding row.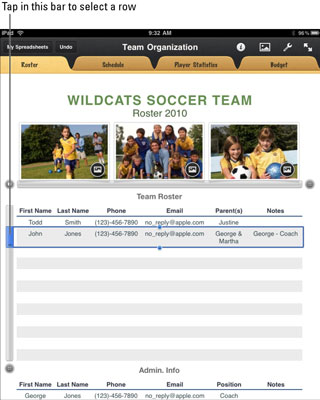 Tap in the column frame to select the corresponding column.
Once you've selected a row or column, you can adjust the selection by dragging the handles (the round buttons) at the top and bottom (or left and right for columns).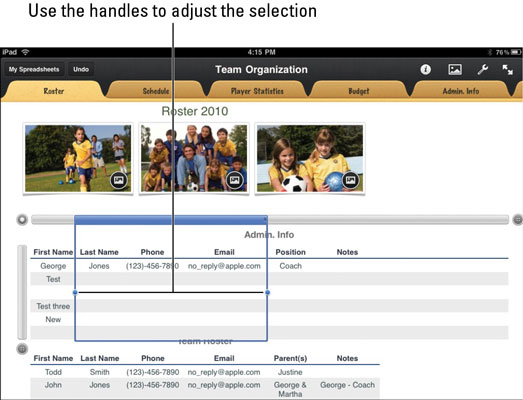 The selection buttons (Cut, Copy, Paste, Delete, Insert, and Sort) appear above a selected column or row. Make certain that you have the right object selected. Note that the selection border extends into the column or row frame and the section within the column or row frame is broader than the other three borders. When cells within a row or column are selected, all four borders of the selection are the same width.

The selection button you tap will affect the column you have selected.
You can also use the selection button to sort a column (or row). Tap Sort in the selection button and then choose ascending or descending sort order.
Resizing a row or column
The two vertical lines (known as the Cells button) in the upper-right corner of the column frame and the bottom-left corner of the row frame let you resize the selected columns or rows. You always resize a column to its right and a row to its bottom whether you are making it larger or smaller. The contents are automatically adjusted, and the adjoining rows or columns are moved aside.
Resizing rows or columns is a good task to try. There's nothing like seeing how Numbers automatically just does the right thing.
Moving a row or column
Sometimes you will want to rearrange the rows or columns in a sheet. With one or more rows or columns selected, drag it (or them) to the new position. All the selected rows or columns move as a unit and the other rows or columns move aside as necessary.
About This Article
This article can be found in the category: