Photoshop Elements gives you several options for saving your image files. The Saving Files preferences, shown in the figure, relate to options available for saving files. The available settings are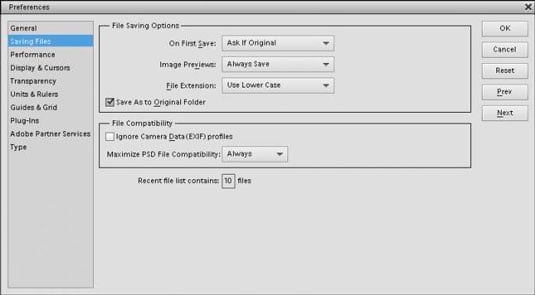 On First Save: From this drop-down menu, you can select Always Ask, Ask If Original, or Save over Current File. These options apply to the first time you edit a photo. On the Mac, you have similar options, though the option names vary a bit.

Image Previews: Image previews show you thumbnail previews of images when viewing photos on your desktop. Adding a preview increases its file size. You can choose Never Save, Always Save, or Ask When Saving. On the Mac you don't need to save previews because OS X automatically creates them for you and you also have an assortment of check boxes that offer additional choices.

File Extension: In Windows, you can tell Elements to put filename extensions in uppercase or lowercase. On the Mac, you find an Append File Extension setting with choices for Always, Never, and Ask When Saving and a Use Lower Case check box.

Save as to Original Folder: When this box is selected, the Save As dialog box defaults to the folder where the original file is stored.

Ignore Camera Data (EXIF) Profiles: EXIF data is information that most digital cameras store each time a photo is taken. The data stored depends on the camera and may include the camera make and model; date and time the image was taken; and even camera settings such as exposure, f-stop, ISO speed, and so on that you can use to compare photos taken with different settings.

When this check box is selected, Elements adds camera data for each photo as metadata. Or, you can deselect the box to discard the EXIF data.

Maximize PSD File Compatibility: When you save files from Elements, you can save in a format that's compatible with Adobe Photoshop. For larger files, you may want to eliminate the compatibility to reduce the overall file size.

Recent File List Contains XX Files: The File→Open Recently Edited File submenu lists ten files by default. You can reduce the number of files appearing in the list (to as low as 0) or increase the number (to a maximum of 30 files).
About This Article
This article can be found in the category: