In Photoshop Elements, your options to undo your work provide you much more than reverting to the last view (as Undo typically works in other applications). The Undo command has been one of the most frequently used menu commands in every program developed. You make a change to your document in Elements, and if you don't like it, you simply choose Edit→Undo or press the keyboard shortcut Ctrl+Z (cmd+Z on the Macintosh).
Using the Undo History panel
Photoshop Elements takes the Undo command to new levels by offering you a panel on which all (well, almost all) your changes in an editing session are recorded and available for undoing at any step in an editing sequence.
Each edit you make is recorded on the Undo History panel. To open the panel, choose Window→Undo History. Make changes to your document, and each step is recorded on the panel.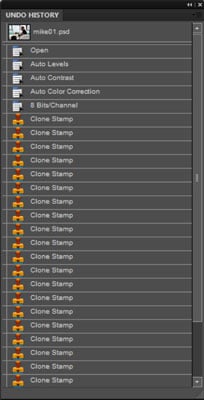 The Undo History panel.
If Photoshop Elements slows down and you're moving along at a snail's pace, choose Edit→Clear→Undo History or choose Clear Undo History from the panel's Options menu. Elements flushes all the recorded history and frees up some precious memory that often enables you to work faster.
When you want to undo multiple edits, open the Undo History panel and click any item listed on the panel. Elements takes you to that last edit while scrubbing all edits that follow the selected item. If you want to bring back the edits, just click again on any step appearing grayed out on the panel to redo up to that level.
All your steps are listed on the Undo History panel as long as you remain in Photoshop Elements and don't close the file. When the file is closed, all history information is lost.
Reverting to the last save in Elements
While you work away in Elements, always plan on saving your work regularly. Each time you save in an editing session, the Undo History panel preserves the list of edits you made before the save.
If you save, then perform more edits, and then want to return to the last saved version of your document, Elements provides you with a quick, efficient way to do so. If you choose Edit→Revert, Elements eliminates your new edits and takes you back to the last time you saved your file.
When you choose Revert, Revert appears in the Undo History panel. You can eliminate the Revert command from the Undo History panel by right-clicking Revert on the Undo History panel and choosing Delete from the context menu that appears. This command returns you to the edits made after the last save.
About This Article
This article can be found in the category: