Social Selling Index (SSI) is the measurement of how your sales activities are performing with LinkedIn Sales Navigator. Underneath the "Share an update on LinkedIn" link is a quick glance at your SSI score. When you click your SSI number, you're taken to a dashboard that paints you a picture of how your social-selling endeavors are going as well as how you stack up against your LinkedIn network as a whole. Sales Navigator tracks your social-selling progress over time, showing you where you're performing the best and where there's room for improvement.

Below, you see that the score of 92 out of 100 is made up of individual scores in the four elements of social selling:
Establish your professional brand
Find the right people
Engage with insights
Build relationships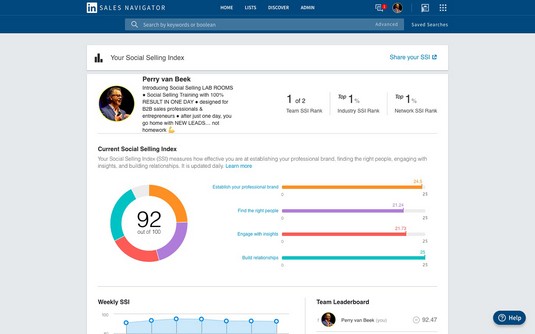 The top half of the SSI dashboard shows how you are performing based on the four elements of social selling.
As shown below, beneath this graph is another graph that charts how your SSI score has changed over the course of the week (Weekly SSI) as well as a list showing you how you're ranked in comparison to the rest of your team (Team Leaderboard).
At the bottom of the SSI dashboard are a few more details about where your SSI fits in with the averages of your team, with people in the same industry as you, as well as with people in your network. This is helpful information to have because if you have a lower-than-average score, you may consider reaching out to some of these individuals for tips on how you could improve your score.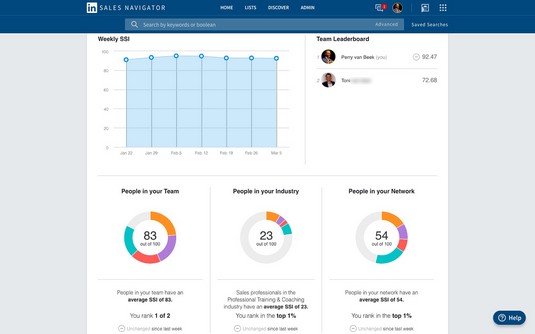 The bottom half of the SSI dashboard shows where you fit in with the rest of your team.
If your score is higher than average, this may be a great opportunity to mentor more inexperienced social-selling team members. Either way, it's always good to know where you stand in the pack.
About This Article
This article is from the book:
This article can be found in the category: