In the past, LinkedIn gave you no way to view other people's social networks. LinkedIn's new Contact Management and Networking toolkit changes all of that. Now, when folks put their social networks on LinkedIn, you can see your friends' networks as well as their friends' networks, and suddenly hidden opportunities start to become available to you.
This means you can spend more time doing research on potential opportunities (like finding a job or a new employee for your business) and makes the LinkedIn network more useful because you can see the map that connects you with other people.
However, just because this information is more readily available, that doesn't mean there's no work anymore in networking. You still have to manage your connections and use the network to gain more connections or knowledge. But because LinkedIn works in the background to guide the way, you spend your time productively.
One of the benefits of LinkedIn is that after you connect with someone you know who also has an account on LinkedIn, you always have a live link to that person. Even when that person changes e-mail addresses, you'll be updated with that person's new e-mail address.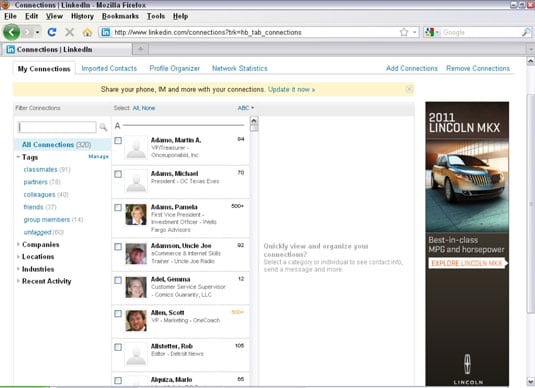 In the LinkedIn universe, the word connection specifically means a person who is connected to you through the site. The number of connections that you have simply means the number of people that are directly connected to you in your professional network.
Specifically, though, here are the different degrees of how you're connected with people on LinkedIn:
First-degree connections: People you know personally; they have a direct relationship from their account to your account. These first-degree connections make up your immediate network and are usually your past colleagues, classmates, group members, friends, family, and close associates.

Second-degree network members: People who know at least one member of your first-degree network connections: in other words, the friends of your friends. You can reach any second-degree network member by asking your first-degree connection to pass along an Introduction from you to his or her friend.

Third-degree network members: People who know at least one of your second-degree network members: in other words, friends of the friends of your friends. You can reach any third-degree network member by asking your friend to pass along an Introduction from you to his or her friend, who then passes it to his or her friend, who is the third-degree member.
The result is a large chain of connections and network members, with a core of trusted friends who help you reach out and tap your friends' networks and extended networks. So, how powerful can these connections be? Here's a snapshot of someone's network on LinkedIn.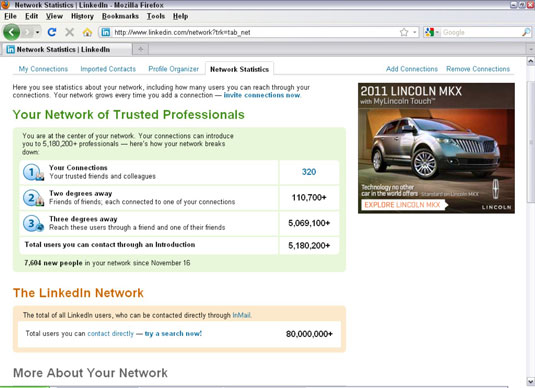 Only three degrees of separation can give you a network of millions.
This account has 303 direct first-degree connections. When you add all the network connections that each of these 303 people have, the user could reach more than 103,800 different people on LinkedIn. Go one step further and add in the third-degree network members, the user of this account could have access to almost 4.9 million members, part of a vast professional network that stretches across the world into companies and industries of all sizes. Such a network can help you (and you can help them) advance your career or professional goals.
About This Article
This article can be found in the category: