Your Instagram bio is a short description on your profile that tells people about you. This description is the Instagram equivalent to a 30-second elevator pitch — it's how you convince new visitors to follow your account.

Most people will read your bio only the first time they visit your Instagram profile. Your bio is the first impression you give to new viewers and should accurately convey the message you want to share.
Deciding what information to include in your Instagram bio
Before you start writing your Instagram bio, choose at least two or three key aspects of your life to highlight. These should be traits that will connect emotionally, in some way, with your those you want to attract, such as the example shown below.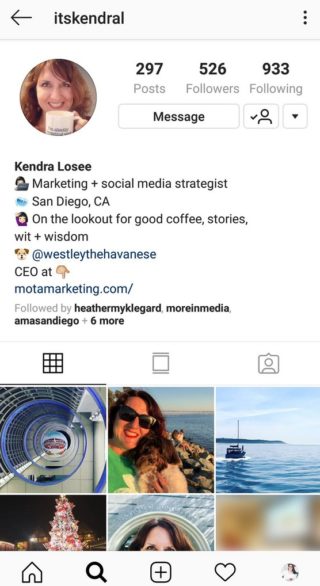 A well-written Instagram bio will attract more followers.

You need to determine the voice and style of your bio. If you're the next Amy Schumer, your Instagram bio should reflect that irreverent, hilarious style through words and relevant emojis. In contrast, if your identity is more straight laced and serious, your bio shouldn't be silly and humorous.

Even if your profile is meant to connect with friends and family, sharing your personality and purpose in the bio will help clarify that to people who may find you.

The Instagram bio is limited to 150 characters, including spaces. The bio is designed to be one single paragraph of information, but you can use formatting techniques to add spaces and line breaks.

Because Instagram was designed to be used on a mobile device, it's best to format your bio on a mobile device so that you retain the correct alignment. No matter what formatting you create, your bio on a desktop or computer device will always be one long paragraph spanning the width of the browser, unlike the vertical alignment seen on mobile devices.

Make use of emojis and symbols from your mobile device's keyboard to create visual appeal in your Instagram bio. To add emojis, open the emoji keyboard on your mobile device — just tap the smiley-face icon at the bottom of your keyboard.

Instagram is a visual platform, and having emojis in the bio helps yours stand out from other users. You have many emojis to choose from. If the traditional funny face and cartoonish emojis don't translate to your style, use simple emoji symbols such as squares, diamonds, triangles, and arrows to add color and visual content without detracting from your professional style.
To hashtag or not to hashtag in your Instagram bio
Generally, hashtags are not a good idea in Instagram bios. Although they are clickable, if someone clicks the hashtag in your bio, he'll leave your profile and explore the hashtag gallery results instead.

Using a hashtag like #photographer will send visitors from your profile to millions of other posts using that hashtag. Using hashtags in your Instagram bio is not a viable way to get more followers or showcase your own content.

You should only include hashtags in your bio if they're specific to you, your content, or your business. For example, if you recently got married and you had a hashtag for your wedding, you can include that hashtag in your bio so that anyone tapping on it will find all the other content created at your wedding.
Formatting your Instagram bio
You can edit or create your bio by tapping the Edit Profile button in your Instagram profile. On the Edit Profile screen, go to the Bio field and insert the text for your bio. Save any changes when you're finished.

Android users can format a bio completely in Instagram. If you want to include line breaks and spacing, tap the Return or Enter key (on the keyboard of your mobile device) at the end of the line.

Make sure that you don't have an extra space after the final character on the line and that the last character on the line is not an emoji. If you have an extra space or an emoji as the final character, the space breaks you inserted with the Return or Enter key will not appear in your published text.

iOS users can format a bio in Instagram, but line breaks will not be retained. Instead, it's best to open the Notes app on your device and use it to craft your bio description, including all formatting. Then copy the bio, open Instagram again, select Edit Profile, and paste the description in the Bio field. As with Android users, you must ensure that no extra space appears after the final character on the line and that the last character on the line is not an emoji.

You can edit and rewrite your bio as often as you want. It's a good idea to review your Instagram bio every six months to verify that the information is still accurate and relevant.
Considering layouts for your Instagram bio
Instagram has traditionally had the profile photo on the left side of the profile and the bio directly beneath it. As Instagram has added more features, like IGTV and Story Highlights, the profile section has gotten longer and taken up more space. To alleviate this problem, Instagram began truncating the bios with a ". . . more" link. Tapping the ". . . more" link will open the full bio.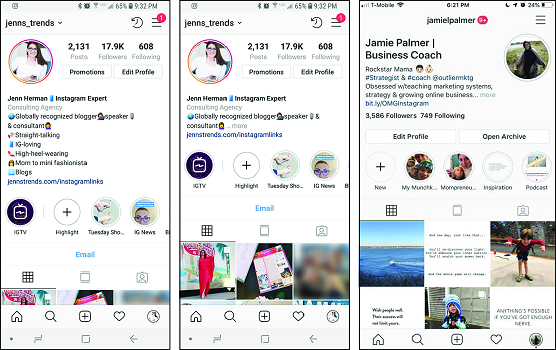 Instagram has been testing and rolling out new profile layouts.
Additionally, Instagram started rolling out new profile layouts with the profile on the right side of the profile and a more condensed spacing to allow for better positioning of the bio content. You may see any variation of the bio formats above.
Adding a web address to your Instagram bio
Most people use web addresses in their bios when they're using their Instagram profiles for business purposes. But there may be occasions where you want to share a website link even on your personal profile.

Perhaps you want to send people to your YouTube videos, or to your personal gallery of photos on Flickr, or to a reservation link for an upcoming party. In any of these situations, or others, you can include the URL for that destination in the link location in your Instagram bio.

The only place that you can place a clickable link on Instagram, as a personal profile, is in the bio. You can't include clickable links in regular posts or stories. If you have any reason to send people to a website link, you'll need to place that link here in the bio.

From the Edit Profile button on your Instagram profile, there is the option to list a URL link. Simply copy and paste or type in the link address in this field.

Your URL can be updated or changed as frequently as you like. You may have a default web page for your profile but change it to coincide with a promotion or campaign you're running on Instagram. After that campaign is complete, you can change the link back to your default or simply delete it if you don't have anything to drive traffic to.

On a personal profile, you won't get Instagram analytics regarding how many people clicked the link in your bio. If you wanted to use this feature for business and drive traffic for your business, you would want to upgrade to a business profile on Instagram.
About This Article
This article is from the book:
This article can be found in the category: