Instagram Stories was designed to be a looser, less perfect area of Instagram. Many Instagrammers agonize over choosing the right photo or caption for their newsfeed so their aesthetic is maintained flawlessly. Instagram Stories allows those users to offer a less polished version of themselves or their business. Here, you find some of the common ways businesses use Instagram Stories to promote their brand, products, and services.
Talking to your audience
The popularity of video has surged in the last few years, so what better way to grab your audience's attention than talking to them via Instagram Stories? Talking directly to your audience gives them a familiarity with you and your business that can't be matched through still images.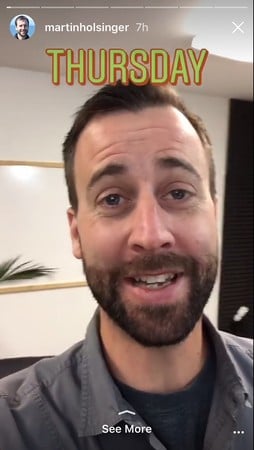 @MartinHolsinger talks to his target audience of residential contractors through Instagram Stories videos.
A problem with a Story video is that the maximum 15-second length means you have to combine videos for a longer conversation, which can result in a choppy video from all the stops and starts. The Storeo app (available as a free download in the iOS App Store) solves this issue. You upload one long video to its app, and it slices the video into the 15-second clips required by Instagram. The result is a Story video that flows more smoothly, with little disruption between each clip.
Providing before-and-after and series shots
Stories are meant to be played in a series continuously, so before-and-after images or a series of photos work well to draw in followers. Using before and after labels or using small bits of text on a series can encourage followers to stick with your Story until the end.

Hairstylists, home decorators, stagers, remodelers, plastic surgeons, makeup artists, and landscapers have a great time creating before-and-after images in Instagram Stories.

Products and services can also be showcased in a creative series that keeps followers on a path to see what's next.

Whether using before-and-after photos or a series, add a graphic or video at the end, giving followers a call to action based on the information you've shared.
Peeking behind the scenes on Instagram
Because many Instagrammers are involved in launches, events, conferences, podcasts, and other exciting activities, behind-the-scenes Stories are a great way to let your audience in on how the magic really happens.

Whether it's showing the types of equipment used, hanging decorations for an exclusive party, or interviewing speakers backstage before a conference starts, followers love to get to know more about how your business works through behind-the-scenes Stories.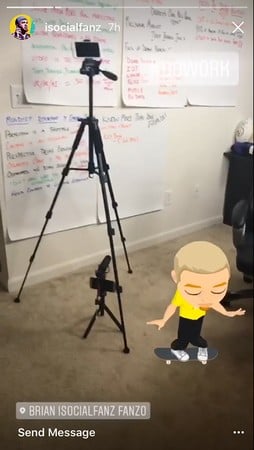 © Brian Fanzo
@isocialfanz shows his followers the equipment he uses to record his Instagram Stories.
Showing your travels on Instagram
There's something so interesting about traveling to other places via Instagram Stories. You can watch someone sipping coffee in Vienna, and then in the next moment see another person at a convention in Minnesota.

Business people will often chronicle their travel to conferences or meetings, or showcase the luxury vacation they earned by working hard at their business all year.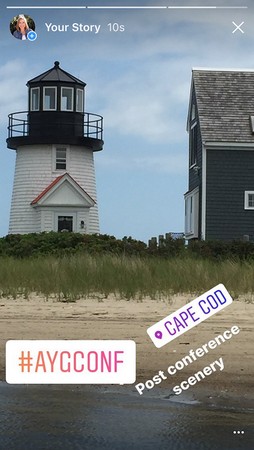 @coreycwalker shows her followers her conference travel to Cape Cod.
About This Article
This article is from the book:
This article can be found in the category: