There are so many things you can do with Instagram and so many things you can photograph! But what works best for Instagram photos? What types of images typically get more engagement? Check out these ten examples of content that will generally perform better on Instagram.
Using the human element in your Instagram photos
People connect with people and Instagram is no exception to that rule. If you can include a person, or a part of a person, in your Instagram post, chances are, it will perform better with your audience.

The photo doesn't always have to be a full-body shot or even include the face of the person. Simply including a hand holding a product, or the back of a person's head reading something, or a shot from the knees down to show a pair of shoes is enough to convey the human component and connect with your Instagram audience.

Look for creative ways to incorporate yourself or other people into your Instagram photos.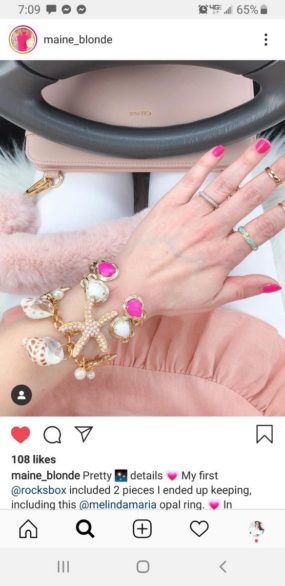 Instagram user @maine_blonde does a great job of including human elements in her photos to highlight various products of focus, like jewelry or accessories.
Adorable animals on Instagram
Everyone loves puppies, right? We're all suckers for a cute baby animal. But all animals typically perform well in Instagram photos. Including a pet or animal in your photos can generate more likes for your posts.

Even if your post isn't specifically about the animal itself, just their presence in the image can boost your like counts. Of course, it doesn't hurt to make the post about the cutie pie, does it? Lots of people even create Instagram accounts exclusively for their pets!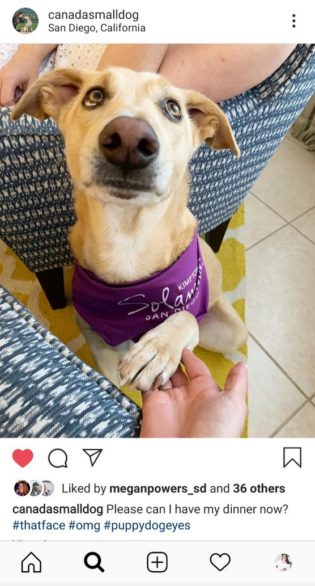 @canadasmalldog is a feature account based entirely on the life of a dog and his travels around North America.
Bold colors to make your Instagram photos pop
You may want to find unique ways to stand out on Instagram. Instagram has a lot of content, and people are scrolling fast. One way to catch people's attention can be with the use of bold colors in your Instagram pictures.

You can rely on well-staged scenes with bold colors, but don't forget to take advantage of photo-editing tools within Instagram to add more saturation and boldness to your images.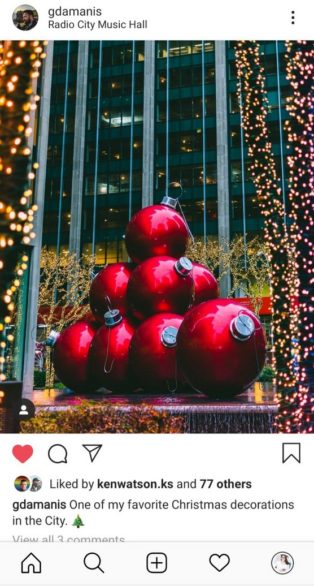 This bold photo from @gdamanis emphasizes how a bold pop of red color can grab your attention in the feed.
Us white space in your Instagram pictures
An alternative way to stand out in the feed, is to focus on plenty of white space in your Instagram photo. With lots of white space, the object of focus will stand out more in the feed and better attract people's attention.

A recent study by AdEspresso showed that photos with good white space performed 29 percent better than those images without white space.

Including lots of white space isn't always easy to achieve and it can make your images much more muted in general contrast. If you choose to go this route, make sure it aligns with your style of photography.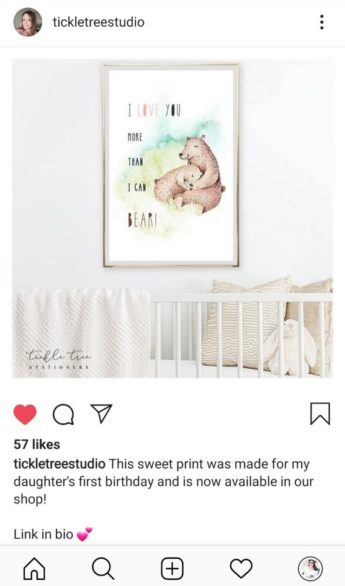 This image from @tickletreestudio includes plenty of white space in both the décor and the wall itself, allowing the print to stand out as the object of focus.
Make your Instagram photo blue
According to that same study by AdEspresso, images with the color blue as a dominant color perform 24 percent better than images where the dominant color is red.

Fortunately for you, there's plenty of blue in the world! From the sky, to the water, to clothing, and plenty of other everyday objects, there are lots of creative ways you can bring more blue into your Instagram pictures.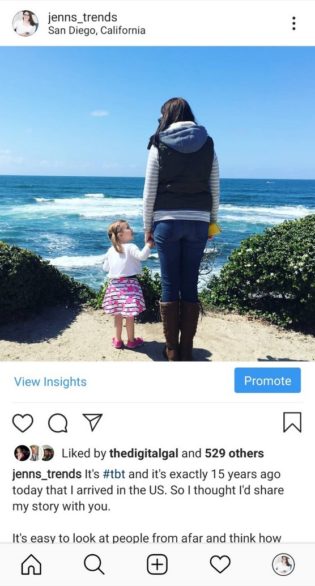 In this image from Jenn Herman, there is plenty of blue to work with, from the water to the sky to the clothing.
Flat lays for Instagram
Flat lays are formatted when the image is taken from directly above the objects. A camera is usually mounted above a table or flat surface and the objects are laid out on the table. This is very common for food photos, as well as accessories and even clothing.

These images provide a fun way to showcase an object from a different viewpoint than straight in front of the camera.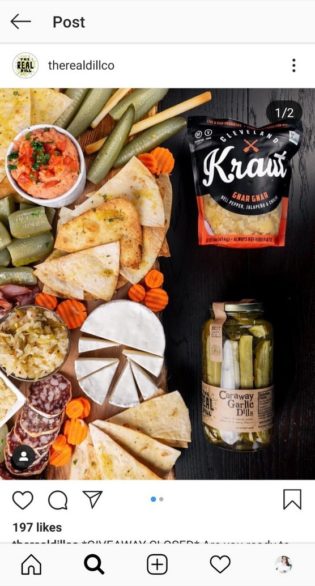 In this image, Cleveland Kraut created a great flat lay for @therealdillco to showcase food, in addition to the product.
Use some long angles
Unique angles and long lines are very appealing visually and can stimulate more engagement on your Instagram posts. A great way to find these long angles in your everyday world is to look at roads, bridges, buildings, architecture, and even flooring!

When taking this type of Instagram photo, position yourself to maximize the length of the object across your plane of focus to make the lines look more accentuated or longer. Below, the photo has the building at the full height of the image on the left side of the screen and it's elongated across the image to a vanishing point on the right.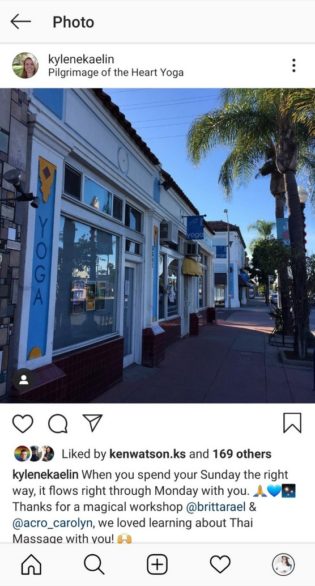 A great example of architecture and long lines is this sample from @kylenekaelin.
Let your lifestyle show
There's a whole lifestyle component on Instagram. The rise of the influencer came from the perceived lifestyle images and styling that many people used to create content on Instagram.

You can tap into this with well-staged photos that show you at home, at work, on vacation, or wherever your lifestyle takes you. The following image, from @joselynmartinez, hits the high notes on lifestyle as she stands in her New York apartment with the city in the background.

She also incorporates the pop of bold color in her dress, and there is a dominant blue hue to maximize her image performance.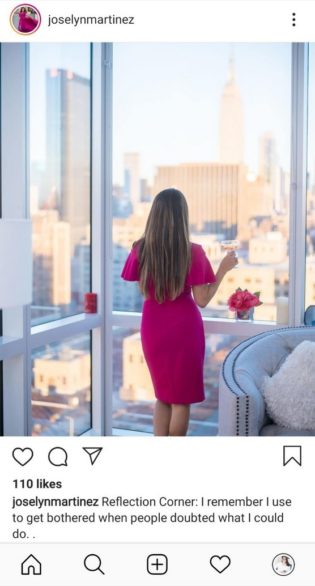 This image from @joselynmartinez plays up the photographer's lifestyle.
Don't forget about the rule of thirds
The Rule of Thirds is a classic photography technique that breaks your field of vision into thirds, creating nine squares in the image. You can turn on the grid on your mobile device in your camera settings so that this grid is easily aligned for your photos.

The idea is to put objects of focus at the intersection points of the lines or in one of the major third quadrants: left or right, or top or bottom. This creates visual appeal and removes the standard placement of putting the object of focus in the center.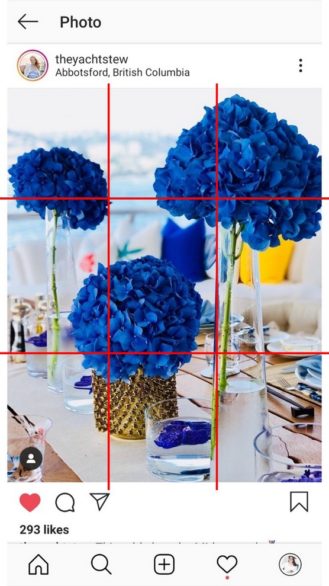 Strategically placed items in this photo from @theyachtstew shows how the flowers hit specific points in the various quadrants for strong visual appeal.
Organic environments make good Instagram photos
One of the keys to success on Instagram is to put things in their "organic" environments. Simply putting a product on an empty shelf or in a box won't appeal to many people because the context of the item is removed. Instead, place items in the environment in which you would find them.

Put a coffee cup on a counter or cute table. Put a book on a desk or a bed or a chair with a comfy blanket. This makes the object more relatable and will usually result in more engagement for you.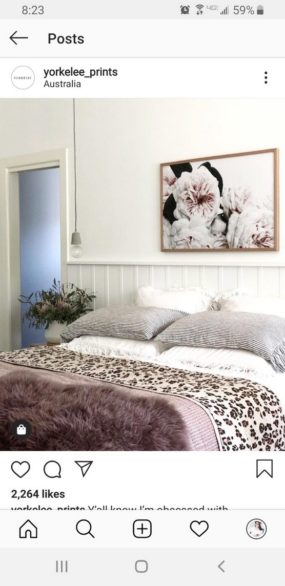 This photo from @yorkelee_prints puts the product, their framed print, in an actual living space, surrounded by furniture and décor, making it more appealing than just hanging on a blank wall.
About This Article
This article is from the book:
This article can be found in the category: