Although you can customize what app you see first, by default, the clock is what appears when you look at Apple Watch. If you press the Digital Crown button, however, you can access your Home screen to see all the apps installed on the watch.
Apple Watch OS's Home screen is similar to other iOS devices — namely, iPhone, iPad, and iPod touch — as you see a bunch of icons that launch an app when you tap one.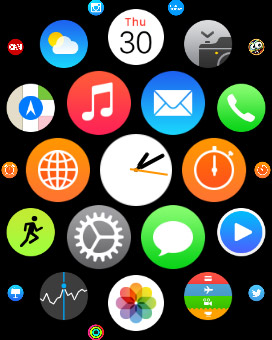 The Home screen apps include Apple's own first-party applications — such as a speech bubble for messaging or a cloud with sun peeking behind it for weather — as well as any third-party apps you choose to install and transfer to the watch from your iPhone, which might include a social media feed, such as Twitter; news information provided by CNN; or a game, such as Trivia Crack.
But instead of neatly arranged rows and columns of app icons on an iPhone or iPad, apps on an Apple Watch are arranged like bubbles in different sizes that move around when you press and slide your finger around the Home screen. The apps grow larger when the icons become closer to the center of the Apple Watch screen, which makes them easier to tap and launch.
If you twist the Digital Crown button while on the Home screen, you can zoom in and out of all the apps you have installed on the watch. Pro tip: If you zoom enough on one app, Apple Watch launches it for you! Also, while you're in the Clock app, you can simply press the Digital Crown button to return to the Home screen.
You choose which apps are installed on Apple Watch via the Apple Watch app on your iPhone (preinstalled with iOS 8.2 and newer). An Apple Watch App Store is also built into the Apple Watch app for iPhone to allow you to download and manage your apps right from within the app.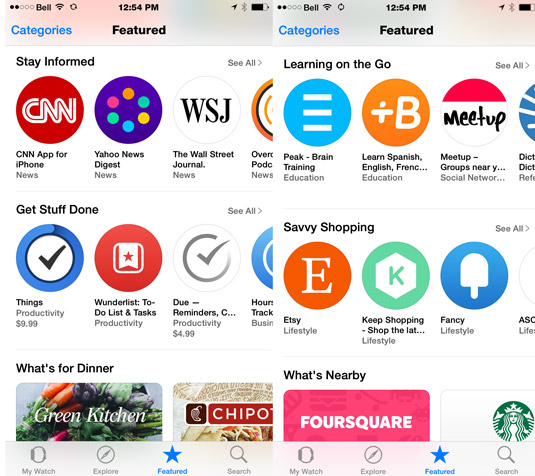 If you hold the Digital Crown button down for more than a second, it launches Siri, your personal voice-activated assistant (or simply say "Hey, Siri" into your watch). Only a quick tap on the Digital Crown button is necessary to open your Home screen.
About This Article
This article can be found in the category: