You might be wondering how the Workout app on Apple Watch differs from the Activity app. Aren't they the same thing? Not exactly. While both are fitness related, the Workout app differs from the Activity app in one respect: Rather than showing your progress over the past day, Workout provides real-time information about calories burned, elapsed time, distance, speed, and pace for your walks, jogs, runs, cycling, and indoor equipment, such as an elliptical, a stair stepper, a rower, a treadmill, and more.

In other words, instead of generic daily stats, the Workout app shows you cardio information based on what you're doing and while you're doing it.

While most activity trackers and smartwatches can spit out generic information on your estimated calories burned — by simply moving — Apple's technology is tailored to specific exercise equipment and/or exercises. All you have to do is choose the type of workout you'd like to tackle — and Apple Watch turns on the appropriate sensors, such as accelerometer and gyroscope (for motion), heart rate monitor, and GPS (via your iPhone).

You can then receive a detailed summary of your exercise — and, of course, your workout counts toward your Activity ring measurements for the day.

You can also set goals, chart your progress, and earn awards.

At least not with the first-generation Apple Watch, the Workout app can't be used to track swimming, although the watch is water-resistant (but not waterproof). Why take a chance, no?

To use the Workout app on your Apple Watch, follow these steps:
Press the Digital Crown button to go to the Home screen.
You should see your apps.
Tap Workout app.
You can also just raise your wrist and say "Hey, Siri, Workout." Either action launches the Workout app, where you see the main Workout screen. You should see options for many different kinds of indoor and outdoor exercises:
Outdoor Walk
Outdoor Run
Outdoor Cycle
Indoor Walk
Indoor Run
Indoor Cycle
Elliptical
Rower
Stair Stepper
Other
Swipe up or down to select a workout or you can cycle through them by twisting the Digital Crown button forward or backward.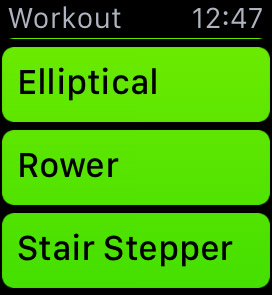 What are you in the mood for?
When you see one you like, such as Outdoor Run, tap it to be taken to the goals screen.
On this screen, you can select a goal based on:
Calories (highlighted in pink)
Time (highlighted in yellow)
Distance (highlighted in blue)
Choose one option to set a goal.
You can customize each option to your goals.
Use your fingertip to press + or – for the numbers to go up or down, respectively.
For calories, it might be 300. If you choose a time-based goal, you might select 45 minutes. A distance-based goal might be two miles.
Remember, you should see different options based on your activity. For example, if you're running indoors, the watch uses the accelerometer, but cycling outdoors uses the GPS on your iPhone to calculate distance. Make sense?
Press Start near the bottom of your screen and then start your workout.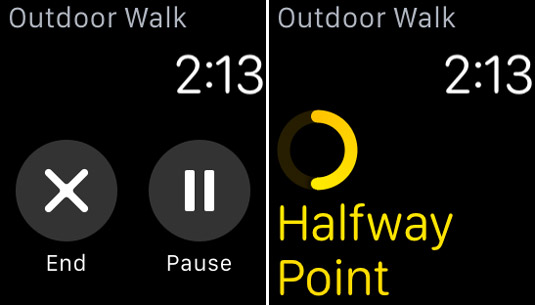 Do your thing — and the watch counts your every move. Well, almost every move. Remember, Apple Watch might always give you proper credit for things like push-ups, pull-ups, and crunches. Sure, it adds to your Move tab within the Activity app, but it might not help properly calculate your calories burned in the Workout app. But still do them because you know it helps your health — even if your watch doesn't!
During your workout, you should see progress updates to help motivate you. You should also receive timely encouragement when you've hit halfway toward the end of your workout, for example, or perhaps based on a milestone, such as reaching one mile during a three-mile jog.
If you need to pause or end your workout, press firmly on the watch screen (Force Touch) or press the Digital Crown button to return to the Home screen.
When you open the Workout app again, you can see the date and time of your best and last workouts — divided by activity (such as Outdoor Walk). You can even see what the weather was like at the time.
Swipe through the Workout screens to see a summary of your workout, including total calories burned, active calories burned (when you were physically exerting yourself), resting calories burned, average pace per mile, average heart rate, total distance, and total time of workout.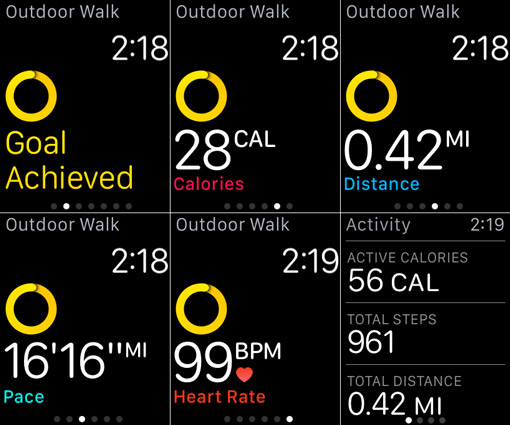 To remind you, all the numbers are color coded too, such as your total distance in blue, total time in yellow, and active calories burned in pink. At the bottom of the summary screen, you can choose to Save or Discard this information. Tap which option you prefer.
Now you know how to select, start, and stop a Workout as well as read your summary information. And don't forget: After you review your accomplishments, you can repeat the exercise (with the same goals) to see how you fare or you might decide to increase or decrease the goal. Or choose a different goal altogether. If you started with time or distance, you might change it up to set a goal based on caloric burn.
About This Article
This article can be found in the category: