Whether you already picked up your Apple Watch and want to learn about what makes it unique compared to the other models available or you're still on the fence about which one to invest in, this section looks at the different kinds of Apple Watch collections available — as it's not a one-size-fits-all scenario. For those who haven't purchased an Apple watch yet, you have many different choices to make, but remember, you can always change the band later on.
Keep in mind that because Apple wants you to pick the Apple Watch that suits your specific tastes, you need to preorder your watch with all the elements decided ahead of time. That is, you can't just waltz into a store to pick it up off the shelf — or at least not yet. When your custom watch is ready, you then pick it up at an official Apple Store.
In case you weren't aware, Apple Watch is available in two different sizes: 38 millimeters (about 1.5 inches) and 42 millimeters (roughly 1.65 inches). This measurement is from the top of the Apple Watch screen to the bottom and not diagonally — like how most screens from consumer electronics are measured (such as smartphones, tablets, laptops, and televisions).
If you're looking to save some cash, the 38 mm Apple Watch is less expensive than the 42 mm one, presumably because it costs less for Apple to manufacture it. Also, if you're curious, Apple Watch's width — measured between the right and left edge of the screen — is 33.33 mm for the 38 mm watch face and a slightly wider 35.9 mm for the 42 mm version. As for depth, Apple Watch is approximately 10.5 mm deep for both watches.
The heart rate sensors also protrude a bit, adding another millimeter or so. Interestingly, the original iPhone was 11.6 mm thick, which is almost the same as Apple Watch's thickness (depth) — even with the heart rate monitor protrusion on the back.
Before we look at the three main Apple Watch collections, be aware that Apple's official website for Apple Watch warns that "features are subject to change and may not be available in all regions or all languages." Therefore, don't rely on the following information as gospel, but it should be pretty accurate if Apple's previous track record is any indication.
Apple Watch comes with a one-year warranty, but if you want to pay for a little piece of mind — let's call it an insurance policy of sorts — Apple Care and Apple Care+ are available for Apple Watch at the time of purchase. These insurance options offer the following:
Apple Care: Coverage for the Apple Watch Edition includes two years of 24/7 support and a hotline to call if you need help setting up your watch.

Apple Care+: Coverage for the aluminum Apple Watch Sport version and the Apple Watch stainless steel model includes two years of technical support and coverage for two incidents of accidental hardware damage. Apple Care+ includes an additional third year of technical support and covers two incidents of accidental hardware damage.
Apple Watch Sport
Because Apple Watch Sport is the least expensive kind of Apple Watch, you can expect it to be the most popular. As the name implies, Apple Watch Sport might be best for sporty types. Made from anodized aluminum, this lightweight case — that is, the watch itself, not including the band — is for those who want something light and comfortable yet durable. The aluminum case weighs just 25 grams for the 38 mm watch and 30 grams for the 42 mm one.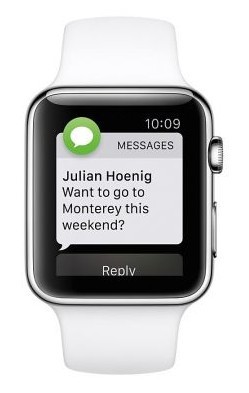 You have two colors to choose from: silver and space gray. To be more specific, your choices, according to Apple, are 7000 Series Silver Aluminum or 7000 Series Space Gray Aluminum, which are said to be 60 percent stronger than standard alloys.
Also tied to Sport is the sweat-resistant fluoroelastomer Sport Band in five colors: white, black, blue, green, and pink.
But you don't have to try to impress your friends with words like fluoroelastomer; you can simply say the band is made from synthetic rubber. It's quite resilient in multiple conditions and in high temperatures.
All the Sport Bands are open-clasp style; therefore, you can find the right fit based on your wrist size before pushing the stainless steel pin through one of the seven holes to secure it.
Sport Bands weigh between 37 grams and 47 grams for the 38 mm watch face or 40 to 51 grams for the 42 mm models. For some reason, white bands are at the top end of this scale. By comparison, blue bands weigh 44 grams (38 mm model) and 48 grams (42 mm model). It doesn't really matter, though, as we're basically splitting hairs here.
All Apple Watch Sport models feature a retina display protected by reinforced Ion-X glass, but other models have different materials, as explained in the "Apple Watch" and "Apple Watch Edition" subsections.
Ion-X glass is the same material used in the windows for space shuttles and high-speed trains, says Apple on its Apple Watch website. Thin and light yet strong — roughly five times stronger than regular glass — Ion-X glass is hardened at the molecular level after it's dipped in a 750-degree molten potassium salt bath. This is when ion exchange takes place, explains Apple, with the smaller sodium ions being removed from the glass and replaced by larger potassium ions. When the glass cools, these larger ions create a very hard surface layer that's resistant to scratches and impact — ideal for Apple Watch Sport.
Apple Watch
Apple Watch is the second of three official collections offered by Apple at launch.
"Wait a sec," you're thinking. "Why did you start with Apple Watch Sport first?"
Confusing perhaps, but Apple Watch is more expensive than Apple Watch Sport, as it's made from pricier stainless steel. And Apple Watch has more options — primarily in your choice of bands — than any of the other collections available.
Apple Watch is available in highly polished stainless steel or matted black stainless steel. To be more exact, it's technically called 316L Stainless Steel or 316L Space Black Stainless Steel, which are low-carbon versions of 316 Stainless Steel but are still resistant to corrosion. The stainless silver case weighs 40 grams for the 38 mm model and 50 grams for the 42 mm model.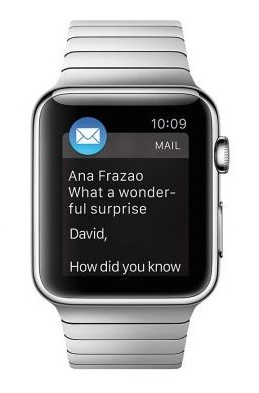 While you can wear Apple Watch outside — and perhaps get some sweat or rain on it — it's not a waterproof watch. Apple says it's not submergible, although it's splash- and water-resistant, so don't take it into the bath, pool, or ocean. Apple Watch has a water-resistance rating of IPX7 under IEC (International Electrotechnical Commission) standard 60529 — similar to other consumer electronics products that can get a little wet but not fully dunked. The leather bands (which aren't relevant to the Sport Watch edition) are also not water-resistant. Some watches are fully waterproof, so just remember Apple Watch is not.
You've got two colors of stainless steel to choose from (silver and gray) and two watch sizes (38 mm and 42 mm), but you have a few choices when it comes to Apple Watch bands:
Leather strap styles: Black with the Classic Buckle; black, stone (light beige), light brown, or bright blue with the Leather Loop–style band and secured by a magnetic closure; and black, midnight blue, soft pink, and brown with the Modern Buckle.

Link Bracelet and Milanese Loop: A silver or space black stainless steel Link Bracelet and a silver Milanese Loop–style band.

Band types: Black or white Sport Band.
With the latter, don't be confused about a Sport Band on a non–Apple Watch Sport model. It refers to the fluoroelastomer (synthetic rubber) — available in white or black — but with the stainless steel case.
The weight of the bands vary greatly on the style. The stainless steel case with Milanese Loop, for example, weighs 33 grams for the 38 mm watch or 41 grams for the 42 mm model, while the Leather Loop–style bands are lighter at 30 grams (medium band) or 33 grams (large band). Link Bracelets are the heaviest at 65 grams for the 38 mm watch or 75 grams for the 42 mm one.
The retina display on these Apple Watch time pieces are protected by sapphire crystal, as opposed to Ion-X glass for Apple Watch Sport.
After diamond, sapphire is the second-hardest transparent substance, as noted by Apple on the Apple Watch website. It's used for the Apple Watch (and Apple Watch Edition) faces as well as the lenses for the heart rate sensor on the back. Apple says its sapphire crystal comes from the highest-quality boules: "Only the purest, clearest, and strongest sapphire crystal is harvested." A diamond-encrusted wire is used to cut the crystal to ensure a precise fit for the case, while a tiny groove is laser-ablated around its perimeter to make room for the integrated antenna. Finally, to ensure a smooth finish, the crystal is polished with diamond-covered pellets. Who knew?
Along with the sapphire crystal cases, all Apple Watch Edition watches have a high-resolution retina display and ceramic back.
Apple Watch Edition
The third and final collection available is simply referred to as Apple Watch Edition — the crème de la crème of Apple Watch models.
Apple Watch Edition features cases specially crafted from custom rose or yellow 18-karat gold alloys.
According to the Apple website that discusses Apple Watch's craftsmanship, because gold is a soft metal and "thus susceptible to nicks and scratches," Apple's metallurgists "engineered an entirely new alloy that's up to twice as hard as standard gold." Apple says this allows the company to achieve the exact hues of yellow and rose gold it envisioned, offering premium aesthetics and durability.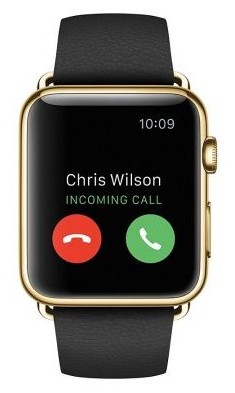 The retina display, which is protected by polished sapphire crystal, is available in a number of unique straps and bands as well as 18-karat gold clasps, buckles, and pins.
The Apple Watch Edition offers a variety of choices:
Rose gold case with a white Sport Band

Yellow gold case with a black Sport Band

Yellow gold case with a black or midnight-blue leather strap and a Classic Buckle

Rose gold case with a rose-gray leather strap and a Modern Buckle

Yellow gold case with a bright-red leather strap and a Modern Buckle
Heavier than the Apple Watch Sport (aluminum) and Apple Watch (stainless silver) models, the Apple Watch Edition cases are the heaviest. They weigh 55 grams (for the 38 mm case) and 69 grams (for the 42 mm case), with bands ranging from 38 grams to 53 grams (depending on the material and whether it's a small, medium, or large fit).
How do you decide which of the three Apple Watch collections is for you — not to mention size of the case, color, and band style? It boils down to three things: budget, style, and comfort. Budget is self-explanatory, of course, as Apple Watch can cost a few hundred dollars or many thousands. Comfort is tied to the weight of the case and band, the size of the case, and the band style; for example, a linked band might pull the hair on a man's wrist, while someone else might be allergic to synthetic rubber.
Style is the big one, as not everyone likes the same case and band color and look. Someone might prefer a 42 mm 18-karat yellow gold case with a bright-red leather strap, but this might not be as appealing to another person, who'd rather wear a 38 mm space black stainless steel case with a black band. It's all about choice. To confirm, you can buy another band later on, but you can't do anything about the watch case material and size, so choose wisely!
Visit Apple's website for more information on Apple Watch bands.
About This Article
This article can be found in the category: