You can look at photos of people, pets, and places on your Apple Watch — anytime and anywhere. Apple Watch can let you access your iPhone's camera to snap the shutter button wirelessly, which is ideal for selfies and group shots. This is available through the Camera app.
How to copy photos to Apple Watch
If you own an Apple Watch without cellular access, you likely know most tasks require a nearby iPhone. The two devices are wirelessly tethered via Bluetooth and Wi-Fi, but you can sync some files to Apple Watch just in case your iPhone isn't nearby.

I'm not exactly sure why you'd want to copy photos to your watch, unless you really think you're going to want to see some pictures when your iPhone isn't nearby. But those who want to take advantage of this feature must first enable it on the Apple Watch app on iPhone.

To copy photos onto your Apple Watch, follow these steps:
Open the Apple Watch app on your iPhone and tap My Watch in the bottom left of the screen.
Swipe down until you see the Photos icon and then tap it.
Some options appear, including one to mirror your iPhone (where photos are synced), or you can choose Custom to handpick what's synced to the watch. As shown in the following figures, you've got some options in the Photos area of the Apple Watch app on iPhone:
Synced Album: Select which iPhone-stored photos are viewable on Apple Watch, even when you don't have your iPhone with you. By default, it's your Favorites album, but you can also choose another one, such as Camera Roll. Or select None.
Photos Limit: Select the photo storage limit on your Apple Watch. Although this limit is measured in megabytes (MB), you can raise or lower the number, but 15MB is the default number, which translates to 100 photos. Lowering it to 5MB loads only 25 photos. You can raise it to 40MB (250 photos) or a maximum of 75MB (500 photos).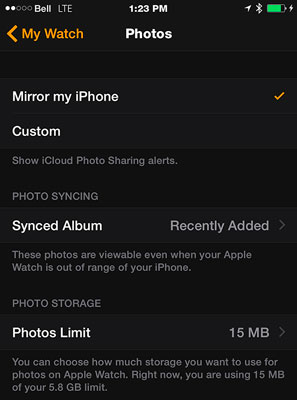 Select which photos you want synced to Apple Watch (if any).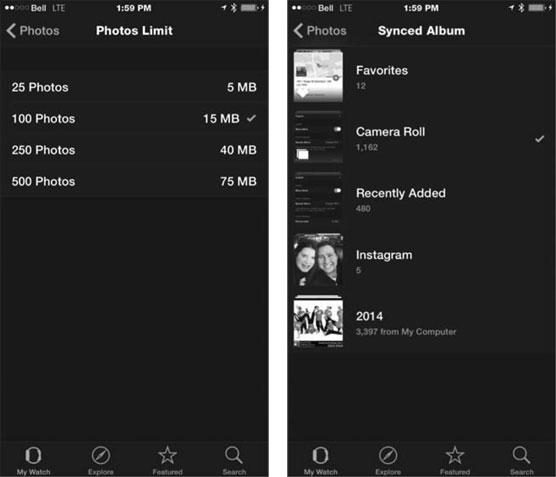 Select how many photos you'd like to sync (by size or number of files) and from which album.
Be aware you can also view photos from your iCloud account on Apple Watch.
Interestingly, you can also copy up to 2 gigabytes of music to Apple Watch, which translates to roughly 500 songs. Therefore, you can store up to 500 photos and up to 500 tunes. You can't go over this maximum for photos and music.
How to launch photos on Apple Watch
Okay, so Apple Watch doesn't have the biggest screen in your life, but it is always on your wrist; therefore, it's a conveniently placed digital photo frame. One of the built-in apps is Photos, which is similar to the photo gallery app on your iPhone, iPod touch, or iPad.

To use the Photos app on your Apple Watch, follow these steps:
Tap the Digital Crown button to go to the Home screen.

Tap the Photos app.

If you prefer, raise your wrist and say "Hey, Siri, Photos" or press the Digital Crown and say "Photos." Either action launches the Photos app, which shows you thumbnails of photos stored on your phone (or watch).

Twist the Digital Crown button to zoom in and out on individual images.

Twisting the Digital Crown away from you zooms out to see more photos, which makes the thumbnails smaller, while twisting toward you zooms into a photo.

Zoom in until a photo takes up the entire watch face.

Now you can swipe left and right to browse through your photos one at a time. The photos are in the same order as they are on your iPhone's Photos app, including any albums you've created.

Swipe your finger left or right to scroll through all your photos. Hey, that's the author of Apple Watch For Dummies and his better half!

Why doesn't Apple Watch allow you to pinch and zoom? Your finger and thumb would cover up your photos. The Digital Crown button works better.

Twisting the Digital Crown button to zoom out to see more photos or tap the Digital Crown button to exit the Photos app and return to the Home screen.

Speaking of photos, don't forget Apple Watch can show you images that are embedded/attached to Messages and Mail (email). You should see images just below the text in a given message. Twist the Digital Crown button to see the accompanying photo(s) near the bottom of the screen. Too bad you can't send a photo to someone from Apple Watch. For that, you need to use your iPhone.
Discover the Camera App on Apple Watch
Did you know you can use Apple Watch as a viewfinder for your iPhone's iSight (rear-facing) camera? You can see a preview of your photo before you take it, set the camera timer on your watch, or just take the photo.

The Camera app might be ideal for those who want to get in the picture but don't want to press the iPhone's shutter button (on the screen or a button along the side of the phone). It can be awkward to hold the camera and take a selfie at the same time or, worse, risk dropping your iPhone and breaking the glass. Or you can use one of those selfie sticks too.

To use the Camera app on your Apple Watch, follow these steps:
Tap the Digital Crown button to go to the Home screen.
Tap the Camera app. Alternatively, you can lift your wrist and say "Hey, Siri, Camera." Either action launches the Camera app. You should then see a preview of your iPhone's iSight camera.
Frame up your shot by getting your subjects huddled together or centering a landscape photo or whatever, as shown in the following figure. Consider Apple Watch your live viewfinder for the iPhone you're holding (or one you've placed on a tripod).

No broccoli in the teeth? As you can see here, you can take a selfie or a group shot with friends.

If you want to take a photo, press the white shutter button in the center of the watch — just below the preview window. This instantly snaps the picture and adds a thumbnail to the bottom left of your Apple Watch's screen. You can tap this thumbnail if you'd like to see the photo full screen.
If you want to use the timer, tap where it says 3s (3 seconds) and then tap the white shutter button.
You should see a countdown on the screen before the photo is taken.
Review what you took, and if you like it, press the Digital Crown button to return to your Home screen. Don't bother pressing the white shutter button if you don't like what you see. Frame up a different shot and then press the white button.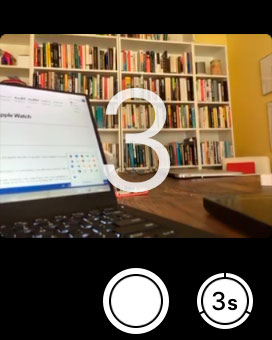 Whether you use the timer or not, tap the large white shutter button to snap a picture by using your iPhone's iSight camera. It counts down from 3 to 1.
A quick checklist of what you can do when viewing photos on the Camera app on Apple Watch:
View a photo: Tap the thumbnail in the bottom left.
See other photos: Swipe left or right.
Zoom: Turn the Digital Crown.
Pan: Drag on a zoomed photo.
Fill the screen: Double-tap the screen.
Show or hide the Close button and the shot count: Tap the screen. When finished, tap Close.
About This Article
This article can be found in the category: