An Apple ID identifies you to Apple. It's the primary security mechanism you can put on your iPad for accessing any Apple resource that's not available to the public, including purchases of music, movies, and TV shows from iTunes, as well as your private iCloud storage area for your data.

In addition to giving you access to your data and resources, if you're a developer, an Apple ID identifies your developer account that lets you distribute your apps. If you're an iBooks author, an Apple ID identifies you to iBooks so you can publish your iBooks.

There's no right or wrong way to set up your Apple ID(s). Some advice: start (and stay) simple. For most people that means a single Apple ID for yourself. You can use Family Sharing to share with other people: That's preferable to having other people use your Apple ID. You may want a separate Apple ID for your media, or perhaps you want a separate ID for work, but that's enough complexity for most people.

You can use separate Apple IDs for your iCloud account and for iTunes & App Store, but you don't have to. Many people use the same Apple ID.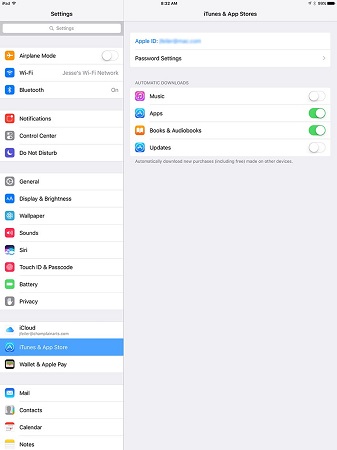 If you don't have an Apple ID, you can create one. Otherwise, sign in with an existing Apple ID.
Create an Apple ID
When you go through the standard iPad setup process, you're prompted to enter or create an Apple ID. (You can change that ID later, if you want to.) Here's how to create one.
Tap Settings on your iPad.
Tap iTunes & App Store or iCloud depending, on which service you want to create an Apple ID for.

This image shows the next screen if you're setting up an ID for iCloud.

Tap Create a New Apple ID.
In the following screens, you answer a series of authentication questions, beginning with your birthdate.

You can control the visibility of this information, but it's essential for Apple to make certain that minors don't access inappropriate information. You can fudge your age in other environments, but this item matters, and it's just between you and the Apple ID software.

Other verification questions allow you to prove your identity. The questions vary (the color of your first car, your favorite band, and so on). The image above asks for a critical piece of information: the email address you want to use for your Apple ID. You can change this address later, but you can't use the same email address for two Apple IDs.
Choose an existing Apple ID for a service
If you have an Apple ID, you associate it with a specific Apple service.
Tap Settings.
Tap the service with which you want to use the Apple ID: iCloud or iTunes & App Store.
Enter the Apple ID and password in the Sign In section.

If you've forgotten your Apple ID or password, tap the Forgot Apple ID or Password? link below the Sign In field. The security questions you answered when you set up the account may come into play in this situation.

Tap Sign In.
Enter your credit card information if you're prompted to do so (depending on the service).
Though it should be quite safe to do so, if you prefer not to leave your credit card info with Apple, you can buy an iTunes gift card and provide that as your payment information. You can replenish the card periodically through the Apple Store, but many people find it easier just to buy a new iTunes card. You can find them in many stores alongside other gift cards. (In some stores, there's a display of these cards near the cash registers so you can buy a new iTunes card the next time you buy a quart of milk.)

Go to Apple ID for details. You can find more information on this page, as well as add security features.
About This Article
This article can be found in the category: