So you've purchased an Apple iPad 2. Congratulations! Now all you have to do is to figure out how to use the iPad's buttons and other physical features.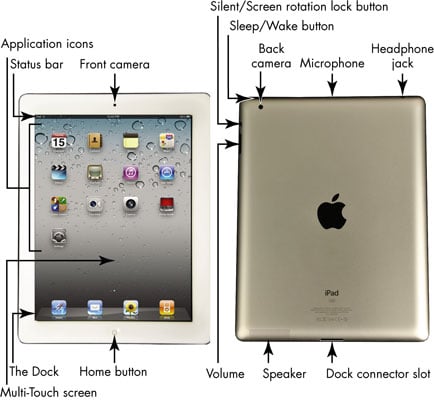 (The all-important) Home button: On the iPad, you can go back to the Home screen to find just about anything. The Home screen displays all your installed and preinstalled apps and gives you access to your iPad settings.

No matter where you are or what you're doing, push Home and you're back at home base. You can also double-tap the Home button to pull up a scrolling list of apps so you can quickly move from one to another.

Sleep/Wake button: You can use this button to power up your iPad, put it in Sleep mode, wake it up, or power it down.

Dock connector slot: Plug in the Dock Connector to USB Cable to charge your battery or sync your iPad with your computer.

Cameras: The iPad 2 offers front and rear-facing cameras which you can use to shoot photos or video. The rear one is on the top right corner, and you need to be careful not to put your thumb over it when taking shots.

Silent/Screen rotation lock button: In case you hadn't heard, the iPad screen rotates to match the angle you're holding it. If you want to stick with one orientation even if you spin the iPad in circles, you can use this little switch to lock the screen, which is especially handy when reading an e-book. You can also customize the function of this switch using iPad General Settings to use the switch to lock screen rotation rather than muting sound, which it does by default.

(A tiny, mighty) Speaker: One nice surprise is what a great little sound system the iPad 2 has and how much sound can come from its tiny speaker. The speaker is located on the bottom edge of the screen, below the Home button.

Volume: Tap the volume rocker up for more volume and down for less.

Headphone jack and microphone: If you want to listen to your music in private, you can plug in a 3.5mm minijack headphone (including an iPhone headset if you have one, which gives you bidirectional sound). A tiny microphone makes it possible to speak into your iPad to do things such as make phone calls using Internet or video calling services or other apps that accept audio input.
About This Article
This article can be found in the category: