The main base from which you begin exploration of your Samsung Galaxy Note or Samsung Galaxy tablet is the Home screen. It's the first thing you see after unlocking the tablet, and the place you go to whenever you quit an app.
To view the Home screen at any time, just press the Home key, which is found on the front of the tablet, right below the touchscreen.
The Home screen is more than what you see. It's actually an entire street of Home screens, with only one Home screen panel displayed at a time.
It is easy to switch from one home screen panel to another, simply swipe the Home screen left or right. The currently displayed Home screen can be determined by looking at the Home screen index.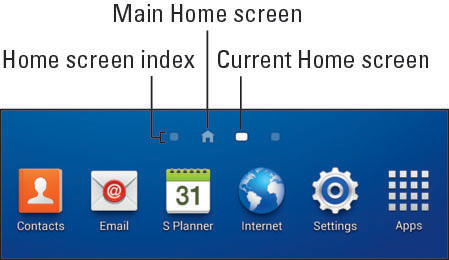 When you press the Home key, you're returned to the last Home screen panel you viewed. To return to the main Home screen panel, press the Home key a second time.
Both the Galaxy Note and Galaxy Tab come with one panel to the left and right of the main Home screen panel.

You can add as many panels to the Home screen street as you like.
About This Article
This article is from the book:
This article can be found in the category: