Android Auto is designed to keep you safe while driving. This feature mirrors the display of your Android phone onto the screen of supported car stereos. Android Auto is now being integrated in many automobiles due to the rise in cellphone-related car accidents.
Keep in mind that Android Auto is currently only available in Australia, New Zealand, Europe, and North America.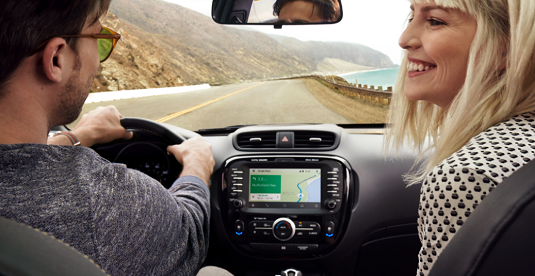 Credit: Image courtesy of Android.com
Android Auto is a safe way to use your Droid while driving.
How to connect your smartphone to Android Auto
Android Auto can only be used if you connect your phone physically via USB cable. This is what you will need to get started:
Android 5.0+ device with a data plan

Supported car or aftermarket car stereo

USB cable

Android Auto application
To connect your phone to Android Auto you must first download the Android Auto application from the Google Play Store. Once you have the application installed, follow these easy steps to connect your smartphone to your automobile:
Turn on your car.

Unlock your phone's screen.

Launch the Android Auto application.

Connect the phone to the car with your USB cable.

Download updates and agree to the terms, if prompted.

Accept the prompt to turn on notifications.

Turn on Bluetooth (6.0 Marshmallow and higher will automatically turn on Bluetooth for you when you connect the USB cable).

Select Android Auto from the car's touchscreen and you're done.
Now, you're ready to get rolling!
How to control your smartphone with Android Auto
There are three ways to control your smartphone through Android Auto, and most supported cars and stereos will support all three methods.
OK Google voice assistant: Using Google Now with Android Auto is easy. Simply press and hold the voice control button or say "Ok Google" and speak your command. Any task that can be executed on the touchscreen using Android Auto can also be done verbally. The voice control button can often be found on the steering wheel. If your car has no buttons on the steering wheel, then the button can be found on the top right corner of the stereo touchscreen. You can ask Google Now to send and receive phone calls/text messages, send directions, play music, and control third-party applications.

Stereo touchscreen: All stereos that support Android Auto include a touchscreen. This is the most intuitive way to control your Droid while driving. Simply tap and swipe to get quick results.

Stereo buttons and knobs: Even though a touchscreen is included, the buttons and knobs on your stereo can control Android Auto as well. To navigate the screen, use the directional buttons or knobs. To make a selection, press/depress the knob or press the OK button often found in the center of the directional buttons.

To achieve the best results, consult your car's user manual to understand how all the buttons and knobs work in your automobile.
A complete list of supported automobiles and aftermarket stereos can be found on the Android.com website. Automakers also plan to offer apps to control other features of the car within the Android Auto environment. Soon you will be able to control the car's climate, view performance, and monitor fuel and battery levels.
How to troubleshoot Android Auto
If you have downloaded the Android Auto application and cannot get it to work, give these troubleshooting tips a try.
Check the compatibility of your phone and automobile.

Make sure the phone is running Android 5.0 or newer.

Make sure the car or car stereo supports Android Auto.

Make sure the Android Auto application is up-to-date.

Try a different USB cable.

Restart the car/car stereo.

Restart your Android phone.

Attempt to reconnect.
If you still are not able to connect your smartphone with Android Auto, try to connect it with a second supported car or car stereo to determine if the issue is with the phone or with the stereo.
If the connection problem is coming from the car and not the phone, the car may need to be taken to the dealership for repair or stereo replacement.
About This Article
This article can be found in the category: