An Android is a complex piece of electronics: delightful, inspirational, intimidating. Obviously, that qualifies an Android phone or tablet as the next great thing. It also means that if you want to get the most from the device, you need some gentle hand-holding and careful explanation.

This Cheat Sheet provides that information, plus plenty of tips and tricks and other useful information that help make your Android mobile device experience a pleasant and productive one.
Android Home Screen
The main screen on an Android is called the Home screen. It's where all the action takes place: where you start the apps, work the widgets, and check out what's going on via notification and status icons.
You find several Home screen pages, some marching off to the left and others marching to the right, for a total of anywhere up to nine Home screen pages, depending on the device. Each Home screen page can be adorned with icons, widgets, and sneeze globs. Only the sneeze globs are easily removed by using a microfiber cloth.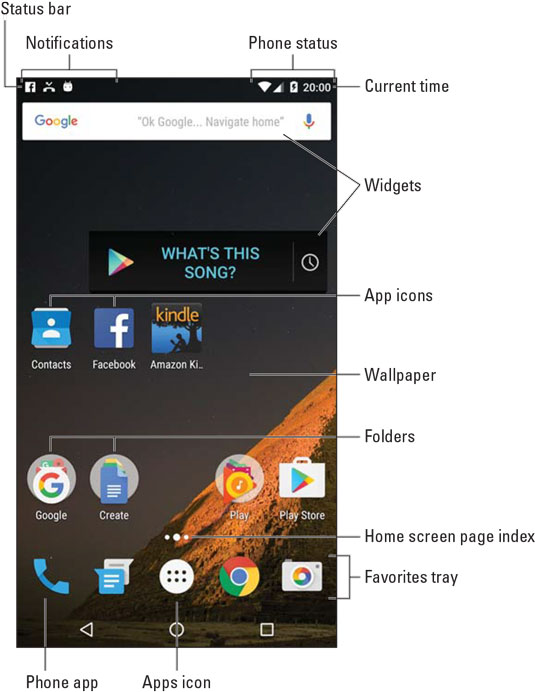 Android Navigation Icons
Androids feature common methods of using the Home screen as well as various apps. The two forms of navigation are gesture navigation and the traditional navigation icons found at the bottom of the touchscreen and illustrated nearby.
| | | | |
| --- | --- | --- | --- |
| Gesture | Method | Icon | Function |
| Back | Swipe the screen inward from the outer left or right edge. | | Go back, close, or dismiss the onscreen keyboard. |
| Home | Swipe up the screen from the bottom. | | Go to the Home screen. |
| Recent | Swipe up the screen, but pause about one-third of the way. | | Display recently opened apps. |
Common Android Icons
Various icons appear while you use your Android mobile device. These icons serve common functions in your apps as well as in the Android operating system. Common icons and their functions are shown here:
| | | |
| --- | --- | --- |
| Icon | Name | Function |
| | Action Overflow | Displays a list of actions, similar to a menu. |
| | Add | Adds or creates an item. The plus symbol (+) may be used in combination with other symbols, depending on the app. |
| | Chevron | Pointing in various directions, expands or collapses a card, menu, or other item. |
| | Close | Dismisses a card, clears text from an input field, or removes an item from a list. |
| | Delete | Removes one or more items from a list or deletes a message. |
| | Dictation | Activates voice input. |
| | Done | Dismisses an action bar or confirms and saves edits. |
| | Edit | Lets you edit an item, add text, or fill in fields. |
| | Favorite | Flags a favorite item, such as a contact or a web page. |
| | Refresh | Fetches new information or reloads. |
| | Search | Searches the screen, tablet, or the Internet for a tidbit of information. |
| | Settings | Adjusts options for an app. |
| | Share | Shares information via a specific app, such as Gmail or Facebook. |
| | Side Menu | Also called the hamburger, lets you view the navigation drawer available in most Android apps. |
Android Touchscreen Operations
It takes a certain finesse to work a touchscreen. Here are some of the common operations you can perform using your fingers on an Android's touchscreen:
| | |
| --- | --- |
| Action | How It's Done |
| Tap | The basic touchscreen technique is to touch it. You tap an object, an icon, a control, a menu item, a doodad, and so on. The tap operation is similar to a mouse click on a computer. It may also be referred to as a touch or a press. |
| Double-tap | Tap the screen twice in the same location. A double-tap can be used to zoom in on an image or a map, but it can also zoom out. Because of the double-tap's dual nature, I recommend using the pinch and spread operations to zoom. |
| Long-press | Tap part of the screen and keep your finger down. Depending on what you're doing, a pop-up or card may appear, or the item you're long-pressing may get "picked up" so that you can drag (move) it around. Long-press might also be referred to as tap and hold. |
| Swipe | To swipe, tap your finger on one spot and then move your finger to another spot. Swipes can go up, down, left, or right; the touchscreen content moves in the direction in which you swipe your finger, similar to the way scrolling works on a computer. A swipe can be fast or slow. It's also called a flick or slide. |
| Drag | A combination of long-press and then swipe, the drag operation moves items on the screen. Start with the long-press, and then keep your finger on the screen to swipe. Lift your finger to complete the action. |
| Pinch | A pinch involves two fingers, which start out separated and then are brought together. The effect is used to zoom out, to reduce the size of an image, or to see more of a map. This move may also be called a pinch close. |
| Spread | In the opposite of pinch, you start out with your fingers together and then spread them. The spread is used to zoom in, to enlarge an image or see more detail on a map. It's also known as a pinch open. |
| Rotate | Use two fingers to twist around a central point on the touchscreen, which has the effect of rotating an object on the screen. If you have trouble with this operation, pretend that you're turning the dial on a safe. |
Android Tricks to Remember
You'll feel like an expert user with your Android after you absorb this assortment of handy, time-saving tricks:
Dictation! You can speak to your gizmo as an effective and quick alternative to using the onscreen keyboard.
Use the Recent gesture or navigation icon to quickly switch between apps.
Modify the Home screen: Change the wallpaper, add your favorite apps, slap down some useful widgets.
Whenever possible, use the phone or LTE tablet's Wi-Fi Internet connection to avoid incurring mobile data surcharges.
Long-press a key on the onscreen keyboard to peruse alternative characters.
Spread your fingers to zoom into a web page, which makes clicking links much easier.
Swipe the Camera icon on the Lock screen to snap a quick photo.
Quickly put the Android into Vibration mode by pressing the volume-down key until the phone vibrates.
Use the various Search icons to look for things on the Android, on the Internet, or in a specific app.
When downloading updates or new apps, or for faster web browsing, activate Wi-Fi.
Use Google Assistant to control the Android with your voice or to search the Internet.
Android Help and Support
If you ever happen to find yourself in serious mobile trouble, here's a smattering of trusted places to check out for help with your Android phone or tablet.
Cellular providers
Here are some support numbers you can dial from your Android phone:
AT&T, T-Mobile, Verizon: 611
Sprint Nextel: *2
Device manufacturers
Google support
About This Article
This article is from the book:
This article can be found in the category: