Upgrading technology keeps getting easier. An Android mobile gizmo provides a smooth upgrade process, but despite the quick transition from an old phone to a new one, a few items may need review. Here are 10 settings and stuff you think might be copied from your new device but probably weren't.
Set ringtones for Android
Your new phone came with the default sounds set for the ringtone as well as the notification sound. If not, great! Otherwise, to get your familiar alerts back requires two steps:
Obtain the sound media from whatever source you originally obtained it.
Reconfigure the device to signal your familiar ringtones.
To start your journey, first check to see whether the old ringtone files were copied to the new device. If they were saved to cloud storage, you should have them. Otherwise, they must be transferred to the new Android or downloaded from cloud storage.
Configure volume settings
One setting that doesn't get copied from your old device to the new one covers the volume levels you've set for specific Android squawks and squeaks. You can set these levels as you go by using the volume key, but you can also visit the Settings app.

In the Settings app, choose the Sound item or Sounds and Vibrations to adjust specific volume levels to your liking.
Activate Do Not Disturb mode
Do Not Disturb mode is wonderful for a light sleeper such as myself. By activating this feature, I can blissfully sleep through the night or nap in the afternoon without the phone ringing away some notification or an incoming call. And, like other items, your Do Not Disturb mode preferences aren't copied from your old device to your new one.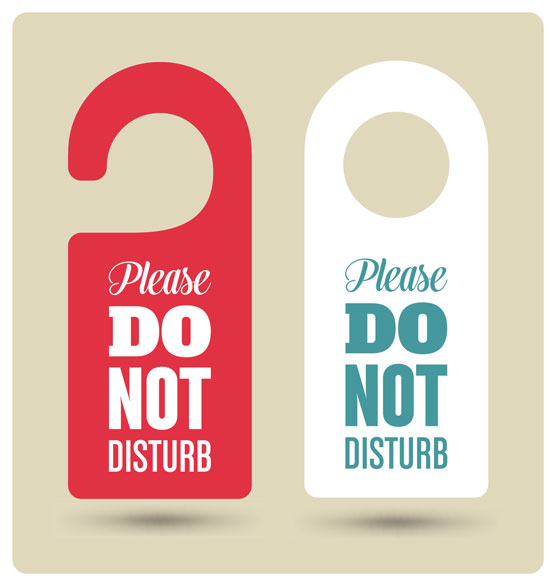 © By Wink Images / Shutterstock.com
To activate Do Not Disturb mode, heed these steps:
Open the Settings app.
In the Search text box, type Do Not Disturb.
Choose the item Do Not Disturb from the list. Avoid selecting any related items. Though other Do Not Disturb settings are important, you want the main Do Not Disturb mode screen.
Choose the Schedules item to set up this mode to activate at your preferred times. For me, it's 10:00 PM to 7:00 AM.
Peruse other settings on the Do Not Disturb screen to reconfigure this handy feature to your liking. For example, allow exceptions for important or rational people, determine whether text messages can get through, allow alarms to sound (important for not missing a flight), and other options.
The good news about this item is that you're reminded right away when you forget to set it on the new phone. That's how I remembered to do it, with a drunk text message from a friend I didn't want to visit at 2 AM.
Change wallpapers
I'm sure Android device manufacturers are enamored with their selection of stunning wallpapers and lock screen backgrounds. I prefer my old standbys, which for some reason weren't copied to my new gizmo.

Ensure that your wallpapers are copied over from the old phone or tablet or otherwise available.
Arrange the Home screen
It was amazing to see that my new Samsung phone not only reinstalled all my old phone's apps but also arranged them the same way (in the same folders) on my new phone's Home screen. If your new Android was as kind, be thankful. Otherwise, you must re-create your Home screen.

I suggest that you snap a screen shot of your device's current Home screen arrangement: Press the Power Lock and volume-down keys simultaneously. Share (save) the image to your Google Drive, changing the name to Home Screen or something equally obvious.

By saving your current Home screen as an image, you can better re-create your favorite layout should you need to when you upgrade to a new Android phone or tablet.
Assign default apps
This suggestion may not apply to a stock Android phone, where the only app options available are Google's. The default apps include the Contacts app, Messages (for text messaging), Chrome, the Calendar app, and more. Other device manufacturers (I'm looking at you, Samsung) may prefer to foist upon you their own versions of these popular apps.

Unfortunately, in some cases (my eye is still on you, Samsung) you can't remove or uninstall the similar apps. You must select a default and then use only one or the other app from this point onward.
The problem with duplicate apps is not only the similar-sounding names but also that some apps may not coordinate their contents with other services. For example, the phone manufacturer's Contacts app may not automatically synchronize new contacts with your Google account.
Because so many duplicate apps share the same name, the only way to know which are Google's and which belong to other developers is to visit the App's information card in the Play Store app. From your list of installed apps, choose both duplicate app names and see which is from Google and which was developed by someone else.
Peruse notification options
The latest version of the Android operating system (10.0) collects all notification options in one convenient place in the Settings app: Choose Apps & Notifications and then tap Notifications; On Samsung devices, choose Notifications.

The notifications screen displays a list of apps capable of generating a notification. Disable the master control by an app if its notifications bother you. Tap the See All item to view the entire list.

To control the variety of notifications, tap an app's entry on the notifications screen. For example, if you don't like Maps app asking if you know a place, disable the item Places You've Visited. The notifications relative to the item you disable no longer appear.
Configure backups
Your Google account features synchronization options, which help keep a copy of many Android features on the Internet, sharable with your other Android devices, computers, or anywhere you can access your Google account. To confirm that synchronization is active, obey these steps:
Open the Settings app.
Choose Accounts.
Choose your Google or Gmail account.
Tap the Account Sync item.
Ensure that all the master controls are set to the On position. There! Everything is backed up — except for your pictures. Continue:
Open the Photos app.
Tap the Side Menu icon to view the navigation drawer.
Choose Settings.
Choose Back Up & Sync.
Ensure that the master control is on. With this feature active, your photos are backed up to your Google account.
One nifty thing about the Back Up & Sync option in the Photos app is that the screen graphically shows how much of your Google storage is available. If space is getting tight, you can disable this option. Otherwise, rest assured that the pictures you take are saved offline — and available to your next Android device.
Voicemail
Another feature not inherited from your old phone to your new one is voicemail — unless you use the same phone number. If so, the voicemail service is inherited, even an add-on service like Google Voice.

Just to be sure, check that your voicemail service is active: After upgrading to the new phone, have someone call you. Don't pick up! Instead, confirm that voicemail is active and set as you prefer.
Personal safety
A new and welcome feature with the latest version of the Android operating system is personal safety. This feature is coupled with device security to ensure that both you and your information stay as private as you want when using your phone or tablet.

In the Settings app, choose the Security item; on Samsung devices, choose Biometrics and Security. Review the settings offered to ensure that everything presented is set according to your needs.

Next, choose the Privacy item in the Settings app. Browse the offering to see which may benefit you.

Finally, choose the About Phone option, which seems an odd place to locate emergency contact information, but now you know: Choose Emergency Information on the About Phone screen, and fill in the items presented as they relate to you. This information appears on the lock screen and is accessible when someone chooses the Emergency Call option.

For Samsung devices, open the Contacts app to review your emergency information: Tap the Side Menu item and choose Emergency Contacts from the navigation drawer. Choose Emergency Medical Information to provide medical details; tap the Edit (pencil) icon to create an Emergency Contacts group, to which you can add those people you want to bother in case of an emergency.
About This Article
This article is from the book:
This article can be found in the category: