Podcasts are like radio or television shows, except when you subscribe to them, you can listen to or watch them at any time you like. Podcasts have been growing in popularity. As a result, thousands of podcasts are available and many (or most) are free.

There are podcasts on a vast variety of topics so there is something for everyone. If you want to listen to podcasts on your Mac, you'll want to check out the new Podcasts app that comes with macOS Catalina. Let's give it a try by checking out a podcast for Mac enthusiasts.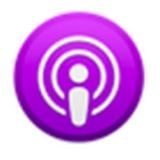 To find podcasts, launch the Podcasts app and follow these steps:
Click Browse or Top Charts in the sidebar.
Click a link in the content pane on the right or type a keyword or phrase in the Search field at the top of the sidebar.
When you find a podcast that appeals to you, do one of the following:

Double-click it to listen to a preview.
Click the + button to download the current episode of that podcast.
Click the Subscribe button to receive all future episodes of that podcast automatically.

Click the ellipsis (…) for additional options.
The image below shows all these things for the Mac Geek Gab audio podcast from The Mac Observer.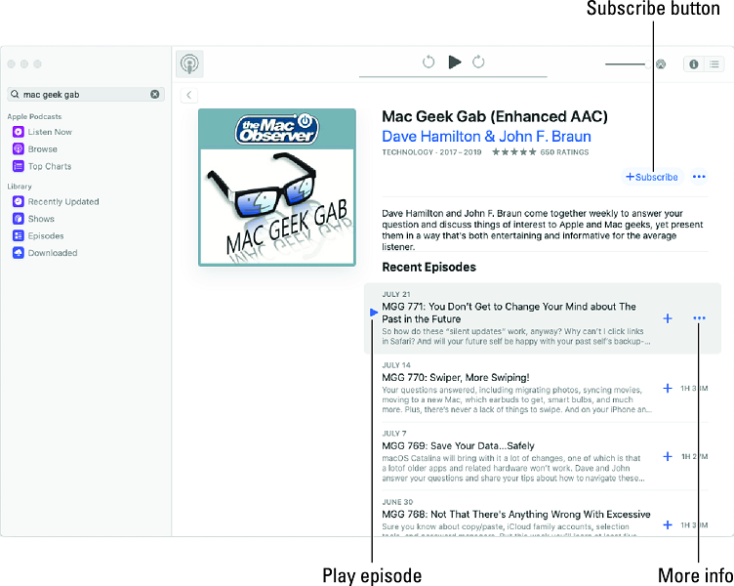 The Mac Geek Gab podcast from The Mac Observer.
For more information on most podcasts, just click the little more link (below the Subscribe button).
Subscribing to a podcast is a cool deal. You can configure how often the Podcast app checks for new episodes (hourly, daily, weekly, or manually), what to do when new episodes become available (download the most recent one, download all episodes, or do nothing), and how many episodes to keep in your library (all, all unplayed, or a specific number between 2 and 10). To specify these settings, click a podcast you've subscribed to in your library, click the ellipsis (…), and choose Settings from the shortcut menu.
When you start listening to a subscribed podcast on your Mac in the Podcast app and switch to an iDevice, such as your iPhone, and the podcast will pick up where it left off on your Mac. Or at least that's what's supposed to happen — and it usually does.
About This Article
This article is from the book:
This article can be found in the category: