The folks at Apple want to make your life easier. That includes multiple ways to adjust your Mac's brightness with Dark mode. Have you ever thought that the white background in most windows on your Mac was far too bright? Have you ever fiddled with brightness hoping to take it down a notch? Some Mac users go to extreme lengths to see their screen better.

You can go far as changing the background color of Finder windows to a dark shade of gray (View →Show View Options), even though it works only on windows using icon view.

In mac OS Catalina, such machinations are a thing of the past. Now it's easy to reduce your screen's brightness by enabling Dark mode. As you can see below (top), Dark mode affects the appearance of windows, buttons, menus, and other interface elements.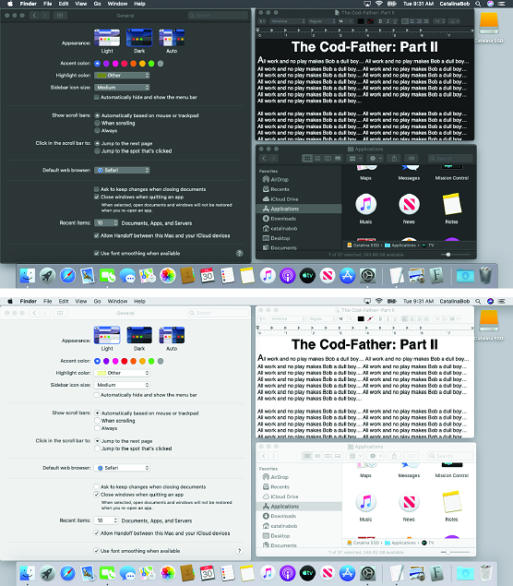 Compare modes on a Mac. Three windows, the menu bar, and the dock in Dark mode (top) and Light mode (bottom).

To choose Dark (or Light) mode, open System Preferences and click General. The first item you see — Appearance — is where you pick your mode.

If you are one of those Mac user's who like to automate things that work well, try out macOS Catalina's new Auto mode feature. Catalina's Auto mode, which switches between dark and light automatically based on the time of day. Check out these other new macOS Catalina features.

Try changing the accent and highlight colors while in Dark mode — they look slightly different than in Light mode.

And that's all there is to Dark mode. Try using it for a while. Many Mac users didn't use it much in Mojave (too much trouble to switch back and forth); in Catalina, the new Auto mode makes using this feature much easier.

Want to check out other handy Mac hacks? Check out this article to learn how you can speed up your Mac experience.
About This Article
This article is from the book:
This article can be found in the category: