There are four main ways to get around Japan: public transit (including trains and local buses), highway buses, a rental car, and taxis and ride shares. During the Tokyo 2020 Olympics, the Tokyo Organizing Committee of the Olympic and Paralympic Games recommends using public transit in order to get between the venues and your accommodations.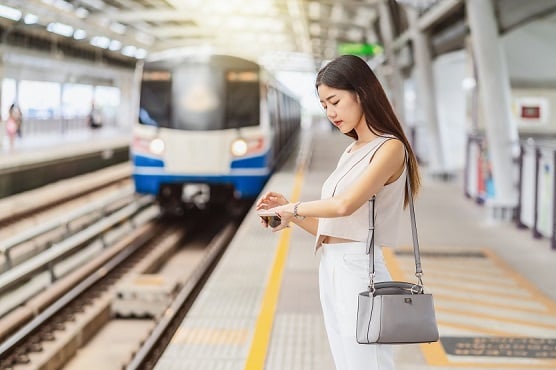 ©Shutterstock/TZIDO SUN
For that reason, this information primarily focuses on public transit. However, if you travel outside of Tokyo to do some exploring, you may find the other methods of transit useful.
Public transit in Japan: Trains and local buses
In large cities, such as Tokyo and Osaka, trains and subways serve as the primary mode of transportation. Local buses in these areas serve as the secondary method of transit and often extend the train and subway networks. In other less dense cities and rural areas, buses serve as the primary method of transit.

Japan's public transit system is incredibly extensive and allows travelers to get most places they want to go with ease. However, its size can also be a bit intimidating. Plenty of guides are available to help you navigate the system.

The bus system can be a little confusing, if only because it seems to vary depending on where you are.
In Tokyo
In Tokyo, buses are typically a flat fee, which varies by what route you take. You enter through the front door and pay for your fare when you enter. This can either be done with cash or with an IC Card. If you don't have exact change for the bus fare, there is usually a coin machine located at the front of the bus to get change.

An electronic display at the front of the bus will display what stop is coming up next, and a button located along the wall of the bus or sometimes even on the railings allows you to indicate to the driver that you'd like to get off at the next stop. For the Tokyo buses, you typically exit out the back door (it's called the back door, but it's usually in the middle of the bus).
Outside Tokyo
Outside Tokyo, things work a bit differently. Fares are typically calculated by distance traveled (unless you're in Kyoto, which also has a flat-rate system). For this reason, you typically board the bus in the back, not the front. If you plan to pay by cash, grab a ticket from the ticket machine near the door. If you want to use your IC Card, tap your IC Card to the reader near the back entrance.

Like the Tokyo buses, other buses around Japan have a button that you can use to indicate to the driver when you want to stop. However, the display board will likely look a bit different from the Tokyo buses. The display boards for these buses also display the prices for each stop, depending on where you boarded the bus.

When you go to get off at your stop, head to the front of the bus. If you got onto the bus using your IC Card, tap your IC Card to the reader near the front door, and then you're free to exit. If you took a ticket, you'll want to insert your ticket into the fare box and then insert the exact change before exiting the bus.
Highway buses in Japan
Highway buses are popular for long-distance travel. They're slower than other methods of transit, such as the bullet train, but they're often much cheaper (unless you have a Japan Rail Pass).

You can use a highway bus when going long distances because they offer the option to take an overnight bus. That means you don't have to spend valuable daylight hours traveling. Plus, it's one less night you have to pay for a hotel. However, highway buses are definitely not as comfortable as hotel beds, so it's a tradeoff.

Personally, the only time you would likely choose to use a highway bus over the bullet train is if you were traveling a long distance and didn't have a Japan Rail Pass.

If you opt to take a highway bus, try Willer Express. They provide fantastic experiences and they travel to most major destinations in Japan.

Note that most, if not all, highway buses require advance reservation and typically do not accept IC Cards as payment, like local buses do. Willer Express accepts credit cards, as well as payments at local convenience stores, such as Lawson and Family Mart. If possible, make reservations as far as advance as possible, because there will likely be many people traveling around the time of the Tokyo Olympics.

If you plan on using highway buses frequently, you may also want to look into the Japan Bus Pass. You can purchase a three-day, five-day, or seven-day version of the pass and can be used on up to three Willer Express operated buses per day.
Rental cars in Japan
In order to be able to rent a car in Japan, you'll need to obtain an International Driving Permit (IDP) or Japanese driving license. You can't drive in Japan with just your U.S. driver's license.

The IDP is a translation of your personal information, including your driving information, into 10 different languages. Unless you plan on moving to Japan, an IDP will suffice for your driving needs.

Most IDPs are valid for one year. If you already have an IDP, make sure yours will be valid for the duration of your trip to Japan.

If you considering renting a car in Japan, you must obtain your IDP before departing for Japan, because you won't be able to obtain an IDP while in Japan (unless you can afford to wait four to six weeks for AAA to ship one to you).

Lastly, you must be at least 18 years old to be able to drive in Japan.

If you're 18 and you have your IDP, you're ready to rent your car. Popular car rental companies in Japan include:
Taxis and ride shares in Japan
Not so fun fact: Using private vehicles for ride sharing is prohibited by law in Japan. However, that doesn't mean that popular ride-sharing services such as Uber don't exist in Japan. In fact, Uber does offer services in Japan, but it has partnered with local taxi companies in order to be able to do so.

That said, Uber is not as popular in Japan as it is in the United States, and it may not necessarily be the cheapest option.

In Japan, taxis are still a very popular method of travel in areas where public transit is infrequent or unavailable. You can hail them from the side of the road or find them at taxi stands (usually located in front of train stations). Although it may be counterintuitive, a red light on the dash of the car indicates that the taxi is vacant and available for rides, and a green light indicates that the car is occupied.

Be aware that the left-rear door of the taxi door can be opened and closed remotely by the driver, so you're not supposed to open or close the door of a taxi unless you're using another one of the doors (the passenger door or right-rear door). Don't be taken by surprise if the door automatically swings open as the taxi comes to a stop in front of you.

Fares vary depend on the location where you're catching the taxi and the size of the taxi. However, there is usually a flat fee for the first kilometer or two (a little over a mile). The fee then increases approximately every 300 meters (0.18 mile). There is also a waiting fare for if the taxi has to slow down or stop, such as getting stuck in heavy traffic. Lastly, if the taxi must travel by highway, any incurred highway fees (think toll roads) will be added to your fare.

Not all taxis accept credit cards, and some may not have cash for large bills such as the ¥10,000 ($91.74), so it's always best to keep some small bills of cash with you. Some taxis now also accept IC Cards.
About This Article
This article is from the book:
This article can be found in the category: