Every destination has "must-do" activities and attractions and Tokyo is certainly no exception. If you plan to travel to Tokyo, make sure you take in the sights. You know, the ones that friends and family back home will be like, "You mean to tell me you went to Tokyo and didn't do x?" If you're trying to avoid that reaction, this information is for you.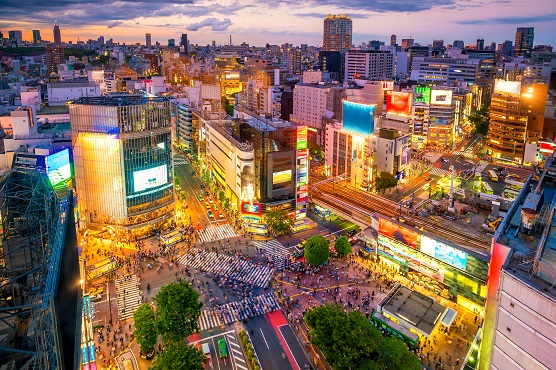 ©Shutterstokc/f11photo
Tsukiji Outer Market and Toyosu Market
The original Tsukuji Fish Market consisted of two different parts: the inner market (a wholesale market) and the outer market. However, in October 2018, the inner market was moved to Toyosu and reopened as the Toyosu Market.

The inner market, now Toyosu Market, is the world's largest fish market. It's such a popular spectacle that there are actually dedicated routes and observation windows specifically created for visitors to watch the auctions for tuna and other seafood and produce.

If you would rather be up close and personal, you can apply for a lottery where winners can view the auction from a much closer location. However, auctions typically take place between 5:30 a.m. and 6:30 a.m., meaning you'll need to wake up super early (or, you know, go to bed super late) if you want to catch the action.

Not all travel websites and guidebooks have been updated since the move of the fish market. Do not go to the Tsukuji Market if you're looking for the live auctions.

The Tsukuji Outer Market, the original outer market from the Tsukuji Fish Market, is still open and lively. It consists of many shops and businesses, which are typically open from 5 a.m. to about noon or a little later.

Because most shops get their food directly from the Toyosu Market, it's one of the best places in Tokyo to get fresh seafood.
Shinjuku Gyoen
Given that Tokyo is a large metropolis, you may be surprised to learn that there are actually a significant number of parks and gardens located within Tokyo. It's like Central Park in New York City, except that there's more than one Central Park.

Shinjuku Gyoen easily tops the list of best parks and gardens in Tokyo. From the 1600s to the mid-1800s, it was actually the home of a feudal lord before being transferred to the Imperial Family and eventually opened as a public park. It costs a few yen to enter, but it's well worth the money.

When you enter the park, it may seem like any other park at first, with just a dirt path leading you through some trees. However, after you make it into the core of the garden, you discover that it has so much more to offer than just a nice stroll. Inside, you'll find not only a traditional Japanese landscape garden, but also a formal French garden and English landscape garden as well.

If you have an hour or two between Olympic events, or just some free time to explore, make sure you take a stroll through the gardens, across the various Japanese-style bridges, around the traditional tea house, and through the conservatory. It's a great way to get away from the hustle and bustle of the city!
Meiji Jingu
Meiji Jingu, or Meiji Shrine, is another great way to get away from the hustle and bustle of the city, but in a very different way. The shrine is located in the middle of a densely populated forest and dedicated to the spirits of the late Emperor Meiji and Empress Shoken.

During his rule, referred to as the Meiji Period, Japan went through great reform, including the breakdown of social classes, improvements in communication and transportation, as well as changes in the education and currency systems.

There are several different entrances to the grounds, making it easily accessible from both Harajuku Station and Yoyogi Station. From either of these entrances, it's about a ten-minute walk to the main shrine buildings.

Here, you can partake of typical practices performed at Shinto shrines:
Purify yourself. Most shrines will have a purification fountain near the entrance as a way to cleanse yourself before approaching the gods. Use the ladle to wash your left hand and then your right. Some visitors use the ladle to pour water into their hands for rinsing out their mouths.
Make an offering and pray. In the main hall, there will be an offering box where you can make an offering to the gods. Many choose to offer ¥5 because the Japanese phrase for ¥5 is 五円 (pronounced "go-en"), which similar to ご縁 (also pronounced "go-en" and typically translated as "luck" or "destiny" or even "it was meant to be"). Gently drop your offering in the box, ring the bell (if there is one), and then bow twice, clap twice, and bow once more. Then make your silent prayer.
Buy a charm or amulet. Charms sold at Shinto shrines, referred to as omamori, are said to provide various forms of luck and protection. For example, there are omamori for happiness, education, good health, romance, and more.
Hachiko Statue
If you stumble across this statue near Shibuya Station by accident, you may think it's just a statue of some random dog. However, the story behind it is quite incredible.

There are a couple of different versions of the legend, but the main story is that Hachiko, an Akita dog, would go to Shibuya Station every day to meet his master on his way home from work. Even after his master passed away, Hachiko would continue to go to Shibuya Station to wait for his master every day until his own death nearly ten years later.

If you have some time during the flight to Japan, try watching the movie Hachi: A Dog's Tale, which is a remake of the original Hachiko Monogatari movie that tells the full story of Japan's most faithful dog.
Shibuya Crossing
Right next to the Hachiko Statue is the Shibuya Crossing, also referred to as the Shibuya Scramble. It's rumored to be the busiest intersection, not just in Japan, but in the whole world. During peak rush hour, there can be upwards of 3,000 people crossing at one time. Nothing says "Welcome to the largest metropolitan area in the world!" more than being one of the thousands of people crossing the intersection at once.

After you've had your fill of the scramble, head up to one of the top floors in the nearby buildings to get a bird's-eye view of the scramble.
Senso-ji
Senso-ji, also known as Asakusa Kannon temple, is Tokyo's oldest temple. At the entrance of the temple grounds, you'll find Kaminarimon, or "Thunder Gate." As if the big red gate weren't prominent enough, a gigantic paper lantern with the Japanese characters for Kaminarimon written on it hangs in the center.

Beyond Kaminarimon, you'll find Hozomon, the "Treasure House Gate," which houses much of the temple's treasures on the second floor. After you pass the two entrance gates, you'll find yourself in front of the main hall.

Unlike Meiji Jingu, which was a Shinto shrine, Senso-ji is a Buddhist temple, which means the rituals are a bit different. Try the following:
Purify yourself. Temples often have purification fountains similar to shrines, but they also often have incense. The smoke is believed to have healing powers. For example, if you have a sprained wrist, you may use your good hand to wave the smoke toward your injured wrist.
Make an offering and pray. The procedure for praying at temples is similar to shrines. However, instead of bowing twice, clapping twice, and bowing once more, you simply bow once, say your silent prayer, and then bow once more.
Just outside the temple, you find Nakamise-dori, an entire street full of souvenir shops and food stalls. This street probably has the widest variety of souvenirs, but due to its popularity, it's also a bit more expensive than usual.
Tokyo Skytree
With a height of 634 meters (693 yards), Tokyo Skytree is the tallest tower and second-tallest freestanding structure in the world. It's almost the length of six football fields!

Its great height makes it one of the best places in Tokyo to get a view of the city. It actually has two different observation decks:
Tembo Deck: The Tembo Deck is approximately 350 meters (383 yards) up and has not only great views of the city, but also a souvenir shop, restaurant, and some glass panels on the ground that allow you to see all the way down to the base of the tower.
Tembo Gallery: The Tembo Gallery is 450 meters (492 yards) up and is more of a conventional observation deck. It's also on the list of top-ten highest observation decks in the world.
Go just before sunset and then hang around until evening. This way, you can see the city during the day, but also when it's completely lit up at night.
Takeshita-Dori
If you want to see some crazy Tokyo street fashion, this is the place to be. Located just in front of Harajuku Station, this street is chock-full of fashion-forward shops and restaurants.

If you stop by on a weekend, you'll likely see all sorts of young adults dressed in everything from neon-colored outfits to full punk-goth clothing. If nothing else, it's a great place to people-watch, as well as pick up some tasty sweets and candy.

If you're not a fan of crowds (and if you are, you chose the wrong city to visit), stop by during the day on a weekday. The narrow street will be much less crowded, allowing you to explore the shops and enjoy the crêpes and other desserts with much less stress.
Purikura
Purikura is actually a shortened version of the Japanese phrase Purinto Kurabu, or "Print Club." To the unsuspecting passerby, it may seem like a typical photo booth you may see at your local mall. However, these photo booths have some fancy upgrades (think: Snapchat filters meets photo booth).

When you enter the photo booth, you'll be able to take four to six photos. When you're done, you can go around to the other side of the photo booth where you can apply filters, make edits, and add stamps and stickers. In general, they tend to be a bit on the girly side, but guys can take some really cool photos, too!

You'll typically find purikura in arcades and game centers. Round1 Entertainment in the Ikebukuro district of Tokyo is a good place to start. The SEGA game centers in Ikebukuro and Akihabara, as well as the Adores arcades in Shinjuku, Shibuya, Ueno, Ikebukuro, and Akihabara are also great places for finding a variety of purikura.
Don Quijote
Don Quijote, sometimes shortened to Donki, is one of the largest discount stores in Japan. Many times these stores are so packed full of goods, it's practically impossible to look at everything! However, this also means it's one of the best places to pick up those random little things you forgot at home.

So, why did a discount store make it onto the list (albeit the bottom of the list) of the top ten things to do in Tokyo? It's a great place to find those unique, only-in-Japan types of items that make for great souvenirs. Here you can find USB sticks that look like popular Japanese snacks and matcha (green tea) flavored snacks (the Kit-Kats are especially popular).

They also typically have other common souvenirs such as keychains, hats, chopsticks, and yukata (traditional Japanese summer clothing) for reasonable prices. Some even have hanko vending machines, where you can get a personalized hanko (Japanese seal) with your name on it.
About This Article
This article is from the book:
This article can be found in the category: