When you arrive at the airport in Japan, you'll need to go through Immigration and Customs, basically telling the Japanese government who you are, why you're there, and what you've brought with you. It's nothing personal — the Japanese government just wants to make sure you're not a security risk.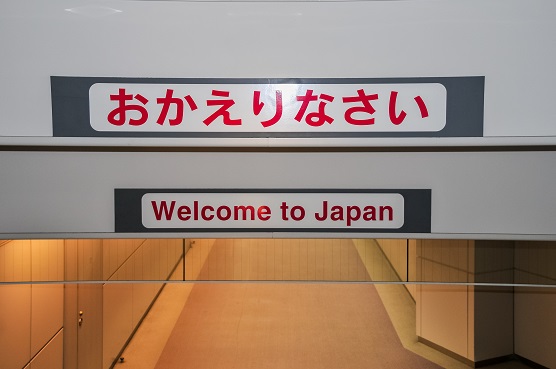 ©Shutterstock/Felix Lipov
Filling out the paperwork
While on the plane to Japan, you'll likely be given two forms by a flight attendant: the Disembarkation Card, which is needed when going through Immigration, and the Customs Declaration form, which is for going through Customs.

Both cards have Japanese and English instructions and can be filled out in either Japanese or English. If for some reason you aren't given these forms on the plane, you can pick them up in the airport after you land.

Most of the flight attendants are pretty good at explaining who needs to fill out each form. In case they don't, know that one Disembarkation Card is required per person, and one Customs Form is required per family. This means that every person should fill out a Disembarkation Card, but only one person should fill out a Customs Declaration form for the whole family.
The Disembarkation Card
On the Disembarkation Card, you're required to provide the following information:
Your family name (last name)
Your given name (first name)
Your date of birth
Your home city and country
The purpose of your visit (tourism, business, visiting relatives, or other)
Your last flight number (the flight number for the flight you took to Japan, not the flight number of any previous connecting flights)
How long you plan to stay in Japan
Where you'll stay in Japan (your hotel address)
Any history of receiving a deportation order or refusal of entry into Japan
Any history of being convicted of a crime (not just in Japan)
Whether you possess controlled substances, guns, bladed weapons, or gunpowder
The Customs Declaration form
The Customs Declaration form will require you to fill out similar personal and travel information as the Disembarkation Card. It also asks several questions regarding what you're bringing with you to Japan, including the following:
Whether you're bringing any prohibited articles and/or restricted articles into Japan: Prohibited articles are items that cannot be brought into Japan at all. Restricted articles are items that can be brought into Japan but have restrictions.

The prohibited and restricted articles lists may be changed or updated by the Customs and Tariff Bureau at any time. So, check the Japan Customs website before you depart for your trip to ensure that you aren't bringing any prohibited or restricted items with you.

Whether you're bringing gold bullion or products of gold into Japan.
Whether you're bringing any goods that exceed duty-free allowance in Japan: In general, personal effects and items for personal use are free of duties and/or taxes. This includes clothes, toiletries, and portable professional equipment. Alcoholic beverages and tobacco products can be brought into Japan duty-free up to a specific amount. Lastly, the total overseas market value of your items must be under ¥200,000 ($1,834.86).
Whether you're bringing commercial goods or samples into Japan: Basically, anything that you plan to sell or is not for personal use will be subject to duties and/or taxes.
Whether you're bringing any items that someone else has asked you to bring to Japan: If you're bringing something with you because somebody else asked you to, you'll need to answer yes to this question. However, it's mostly just a check to make sure that you're not unintentionally (or intentionally) smuggling something into the country because somebody asked you to.
Whether you're bringing the equivalent of ¥1,000,000 ($9,174.31 ) or more into the country (including cash, checks, promissory notes, precious metals, and so on): There is no limit to the amount of money that can be brought into Japan. However, if you bring the equivalent of ¥1,000,000 ($9,174.31 ) into Japan, it must be declared.
Whether you have any unaccompanied articles (any items you bring into Japan outside of what will be with you at the airport): For example, if you chose to ship or forward your luggage ahead of you, any luggage you shipped would be considered an unaccompanied article.
Checked luggage is not considered unaccompanied articles. You may not have your checked luggage with you on the plane when you're filling out this paperwork, but you'll pick up your luggage before going through Customs at the airport.
Going through Quarantine and Immigration in Japan
When you get off the plane, the first section you'll come to in the airport is Quarantine. Unless a medical questionnaire form was distributed on the plane, you won't have to do anything here.

Most times, passengers are only required to go through Quarantine when they're coming from areas dealing with certain outbreaks. For example, passengers coming to Japan from North America were required to go through Quarantine during the H1N1 outbreak back in 2009 and 2010.

After Quarantine is the Immigration section. Here, you need to present your passport and Disembarkation Card.

Also, all those who are granted permission for short-term stay (without a visa) will be photographed, fingerprinted, and asked for proof of onward travel or proof that they'll be leaving the country.

During the off-season, many travelers can get through Immigration in less than 20 minutes. However, during popular travel times, such as cherry blossom season, this process can take over an hour due to long lines. With the large influx of travelers for the Olympics, be prepared for the process to take longer than expected. For this reason, it's a good idea to not book any transportation tickets or activities too close to your flight arrival time.
Going through Customs in Japan
After you go through Immigration, you'll find baggage claim, where you can pick up any luggage you may have checked. Also near here, you'll find the plant and animal quarantine area. You need to stop here if you're bringing animals, meats, fruits, or other plants into Japan.

After you have your bags, continue forward and you'll arrive at Customs. Here, you find two different lines: Green Channel and Red Channel. The Green Channel is for those who do not have anything to declare. The Red Channel is for those who do have items to declare or aren't sure.

Regardless of which line you choose, you'll be asked to present your passport and Customs Declaration form. Most times, Customs officers will conduct a high-level interview, asking questions such as "Where are you from?," "How long are you staying?," or "Are you bring X, Y, or Z item with you?"

On occasion, travelers have been asked additional, more in-depth questions and even had their bags searched. This may become more common as Japan increases security to ensure the safety of visitors during the Olympics.
About This Article
This article is from the book:
This article can be found in the category: