By using the Release mode setting on your Nikon D7200, you tell the camera whether to capture a single image each time you press the shutter button, record a burst of photos as long as you hold down the shutter button, or use Self-Timer mode, which delays the image capture until a few seconds after you press the shutter button.
You also get two options related to wireless remote control shooting and Quiet Shutter mode, which dampens the normal shutter-release sounds.
Why Release mode? It's short for shutter-release mode. Pressing the shutter button tells the camera to release the shutter — an internal light-control mechanism — so that light can strike the image sensor and expose the image. Your choice of Release mode determines when and how that action occurs.
The primary point of control for shutter release is the Release mode dial. To change the setting, press and hold the Release mode dial unlock button (labeled in the figure) while rotating the dial. The letter displayed next to the white marker represents the selected setting. For example, in Figure 2-4, the S is aligned with the marker, showing that the Single Frame mode is selected.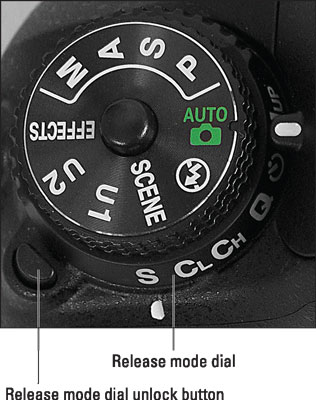 You can choose from a variety of Release modes.
The Information display includes a symbol representing the current Release mode as well, as shown. (The S symbol represents the Single Frame mode.)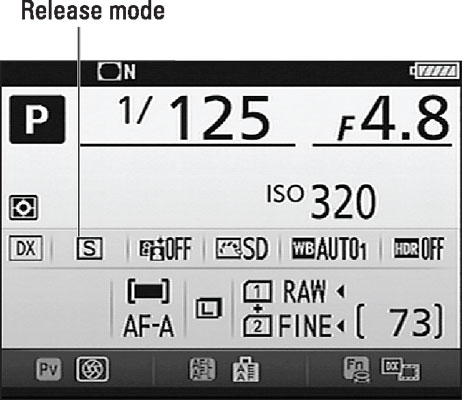 This symbol represents the current Release mode.
One note in advance: If you've worked with another Nikon dSLR with a Release mode dial, you may expect to find a dial setting designed for use with the wireless ML-L3 remote control unit. But on the D7200, you instead enable wireless remote shooting via the Remote Control Mode (ML-L3) option on the Photo Shooting menu.
About This Article
This article is from the book:
This article can be found in the category: