By using the Release mode setting, you tell your Nikon D5500 whether to capture a single image each time you press the shutter button; to record a burst of photos as long as you hold down the shutter button; or to use Self‐Timer mode, which delays the image capture until a few seconds after you press the shutter button. You also get two options related to wireless remote control shooting and Quiet Shutter mode, which dampens the normal shutter‐release sounds.
Why Release mode? It's short for shutter‐release mode. Pressing the shutter button tells the camera to release the shutter — an internal light‐control mechanism — so that light can strike the image sensor and expose the image. Your choice of Release mode determines when and how that action occurs.
On the Information screen and Live View display, the current Release mode is indicated by the icons labeled below. The S represents the Single Frame mode. Note that the Live View screen shows the default data‐display mode; if your screen shows a different assortment of data, press the Info button to cycle through the available display modes.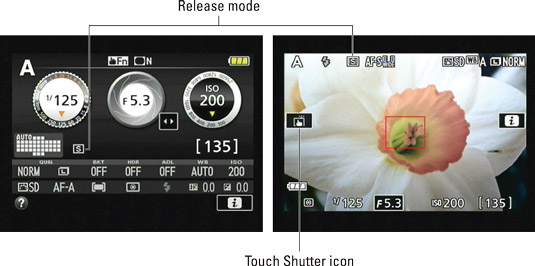 This S represents the Single Frame shutter‐release option, which produces one picture for each press of the shutter button.
Also pay attention to the status of the Touch Shutter when you shoot in Live View mode. The Touch Shutter has two settings: On and Off. When the icon appears, the Touch Shutter is on. At this setting, the camera sets focus when you touch the screen and releases the shutter button when you lift your finger from the screen.
Tap the icon to turn off the shutter‐release portion of the feature; you can then tap your subject to set focus on that part of the screen and use the shutter button to record the picture. You can use the Touch Shutter to record only one photo at a time; the burst mode options (Continuous High and Continuous Low) aren't compatible with the Touch Shutter.
To adjust the Release mode setting, use these methods:
Release Mode button: Press this button to display the selection screen. Then tap the setting you want to use. Or, if the touchscreen is disabled, use the Multi Selector to highlight a setting and then press OK.

For even faster results, press and hold down the Release Mode button.

The Release Mode button offers the fastest access to the setting.

When the selection screen appears, rotate the Command dial to highlight a setting. Then release the button to return to shooting mode.

After this screen appears, tap the Release Mode option you want to use.

Shooting menu: Scroll to the second page of the menu to find the setting.

The Release Mode option is also found on the Shooting menu.
About This Article
This article is from the book:
This article can be found in the category: