If you're new to digital cameras, you might be wondering what all those parts — the buttons, LEDs, and windows — are for. Here's a quick introduction to the key components of the average non-SLR digital camera: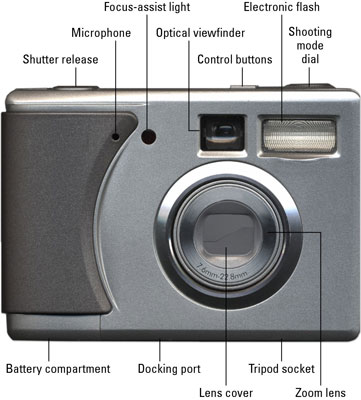 The front of a typical digital camera.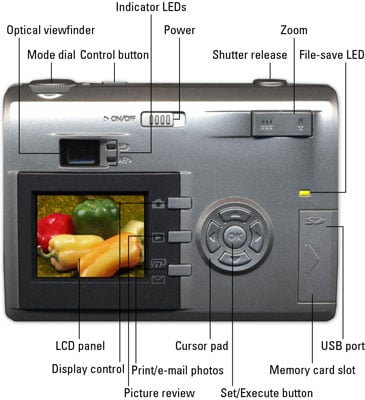 The back of a typical digital camera.
Shutter button: Press this button all the way to take a picture.

Control buttons: Adjust various camera settings.

Shooting mode dial: Change among different scene modes, adjust exposure choices, and so on.

Microphone: Capture audio for movie clips and voice annotations, or even activate a sound-triggered self-timer.

Focus-assist light: Helps the camera focus in dim lighting conditions.

Electronic flash: Provides addition light to your scene.

Optical viewfinder: To frame and compose your picture.

Zoom lens and control: Magnifies or reduces the size of the image.

Tripod socket: Allows you to attach the camera to a firm support.

Docking port: Can be used to transfer photos, recharge the batteries, make prints, or perform other functions.

Battery compartment: Contains the cells that power the camera.

Power switch: Turn the camera on or off.

Indicator LEDs: Show the camera's status.

LCD (liquid crystal display) panel: The camera's display.

Display control/Menu button: Controls the amount of information shown in the LCD and menus.

Picture review: Press this button to review the pictures you've already taken.

Cursor pad: Navigate menu choices.

Set/Execute button: Activate a feature or set a menu choice to the current selection.

Memory card slot: Accepts digital memory cards.

USB port: Access for a USB cable.

File-save LED: This light usually lights up to indicate that an image is being saved to the memory card.
About This Article
This article can be found in the category: