Compact digital cameras (sometimes called digital point-and-shoot cameras) are the cheapest entry into high dynamic range photography. You can buy one for about $100 and start your career without having to get a second mortgage on your home.
Here are some models that can fit the bill. The Nikon Coolpix S220 and Canon PowerShot A480 can shoot HDR by using exposure compensation. The Panasonic Lumix LZ8 is a little older, but it features manual mode and AEB. This figure shows what you can achieve using this Panasonic model.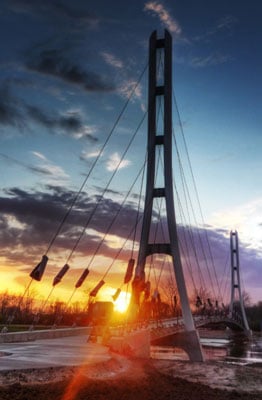 You can take great photos and have fun with HDR with any of these cameras. The key to buying a compact digital camera that can handle HDR photography is to know what you're getting and knowing the camera's limitations.
With compacts that feature manual modes and even auto bracketing, you're set. You can't take action shots or hand-held HDR because the frame rate is too slow, and you won't have Raw photos to use for single-shot HDR.
If your camera doesn't have a manual mode or AEB, don't worry — all is not lost. The Exposure Compensation feature on most (if not all) digital cameras offers you a workaround for automatic controls to change shutter speed, which is how you shoot manual brackets.
The benefits you'll find if you use a compact digital camera:
Compact: Compact digital cameras are easy to carry, hold, store, and shoot normal photos with "point and shoot" ease (HDR isn't quite so automatic with a compact camera). Their diminutive size can make a difference if you don't want to lug around a big digital single lens reflex (dSLR) with several lenses.

Inexpensive: Not all compact digital cameras are easy on the wallet, of course, but this type of camera starts out inexpensively. You can find a good camera that fits your budget with little trouble.

Multi-purpose: You can use a simple point-and-shoot for casual family photos during the day and HDR at sunset. These cameras are ideal to start your HDR career, and you can use them for many other purposes. They also make wonderful learning platforms to teach children about photography.

Results: Purists and quality fanatics might cringe at the prospect of seeing HDR shot from compact digital cameras, but they work.
About This Article
This article can be found in the category: